Oil cost dipping, town feels heat over fuel contract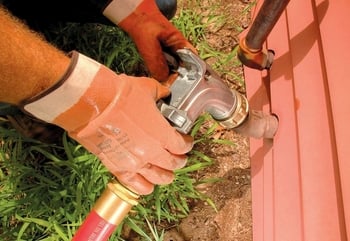 HOLLIS – What happens in Hollis, doesn't stay in Hollis, at least when it comes to heating oil.
Neighboring towns are struggling with similar concerns, second-guessing gambles they took on settling fuel contracts weeks or months ago when fuel prices appeared to have stabilized.
Since the town and school district negotiated fuel contracts for the coming winter, prices have dropped, causing some officials to wonder whether they would have done better to wait longer before committing to a price.
Waiting, however, could have had the opposite effect.
Oil prices could go up as a result of the Friday meeting of the Organization of Petroleum Exporting Countries, or at any time in the near and distant future, based on elections, the stock market, world markets and other forces, experts agree.
"It's the old Catch-22, without a doubt," said A.J. Robichaud, general manager of Lorden Oil.
The impact might have been softened had the town and school district purchased downside protection that insurance fuel companies sell to guarantee a lower price than negotiated, should prices fall.
Lorden, for example, offered private customers protection at 20 cents a gallon of purchased fuel and discounted the price to 15 cents for the town and school district.
For the school district, the insurance would have added another $15,000 to next year's budget, based on an order of 100,000 gallons of oil.
The town purchases between 7,000 and 9,000 gallons and would have had to spend up to an additional $1,350, according to Robichaud.
Robichaud said Lorden Oil offered the town and schools three options: a prebuy price with downside protection; prebuy without downside protection; and what's called "rack price," the cash or wholesale price plus a predetermined margin.
The town considered all three options, while the school preferred the prebuy, without downside protection, Robichaud said.
He said he "strongly advised" both customers to buy downside protection.
In July, when towns and school districts began talking about fuel contracts, the price of oil was $4.59 a gallon.
When the school district contracted with Lorden, shortly before Hurricane Ike was predicted to strike, the price was $3.49.
More recently, the board of selectmen agreed to a price of $3.099.
"People were in a complete frenzy to get contracts," Robichaud said. "No one knew where the market was going; it was a huge risk."
Hindsight is 20-20, as the saying goes.
And on Monday, Vahrij Manoukian, selectmen's chairman, told his colleagues he would try to renegotiate the contract with Lorden.
A reduced price could save taxpayers thousands of dollars, Manoukian said, pointing out that the money potentially saved could be used in other parts of the proposed barebones budget for 2009.
"The reason I'm taking this very hard is it is a big chunk of money," Manoukian said during a telephone interview Thursday.
Robichaud sympathized, but disagreed.
"We can't go back and turn back the hands of time," he said, referring to the contract. "It's like having a home in a flood plain and no flood insurance, and when the flood comes, you call the insurance company saying, 'I want flood insurance.' "
Robichaud said officials in nearby Milford, Lyndeborough and Temple – communities his company serves – are dealing with similar concerns.
"Believe me, we're getting phone calls daily. Every one of our customers has a budget and the same worries and concerns," Robichaud said. "They can't expect a company to take their losses for them. You have to say, 'I signed a contract. I didn't buy downside protection. I have to live with it.' "
When Manoukian and Robichaud met earlier this week, the fuel company executive said the company would do what it could to help the town.
For years, the local business has donated services and materials to the town, everything from a boiler for the historical society's building on Main Street to raffles for 100 gallons of fuel oil. "We'll do anything we can," Robichaud said he told the town official.
Meanwhile, the market continues to fluctuate, a trend Robichaud predicted would continue.
He said warned against estimating savings until the winter heating season is over.
Today's price for a barrel of oil could plummet or skyrocket, or do something in between, he added.
Crude oil futures for December delivery traded Friday morning at $64.51 a barrel, the lowest price since June 13, 2007, according to Bloomberg.com.
The price, however, isn't likely to remain stable.
Nor is second-guessing a profitable use of mental energy, Robichaud said.
"Everyone gets tunnel vision," he said. "We don't want to see the town and school pay more, but once a decision is made, as a business, we can't absorb it."