Official denies toll idea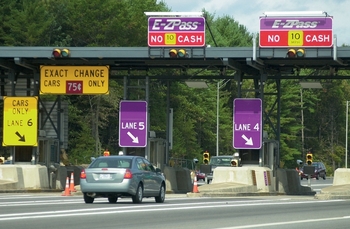 CONCORD – State Transportation Commissioner George Campbell denies that there were plans over the next two years to locate a turnpike tollbooth in Nashua.
Campbell rebutted claims his plan to erase a projected, $153 million deficit in the state highway fund with a state budget companion bill (HB 2) would lead to moving the F.E. Everett Turnpike tollbooth in Bedford to Nashua or to placing a toll in the city.
"Nothing about I-93 and nothing about Nashua have anything to do about solving HB 2 or funding HB 2 for this biennium," Campbell told the House Public Works and Highways Committee on Wednesday.
Beyond 2011, Campbell said there can be no guarantees.
"I don't know all the things we will do in the future," Campbell said.
State Rep. David Campbell, D-Nashua, and others on the committee pressed on whether the agency plan to merge interstate highways with the turnpike system means tollbooths would follow in Nashua and on Interstate 93 in Salem at the Massachusetts border.
"Are there tollbooths in Salem, are there tollbooths in Nashua?" David Campbell asked.
"People need to know this. They need to see the long vision."
FIXING THE DEFICIT
A Nashua tollbooth would require legislative approval and lawmakers several years ago removed a reference in state law to a Nashua toll, George Campbell responded.
Last fall, DOT applied to federal officials for an I-93 tollbooth in Salem to help finance the widening of I-93 from Salem to Manchester.
State support for the I-93 widening is $319 million short of the money needed to complete the work.
Merging interstates with the turnpike system would permit toll money to be spent on maintaining five stretches of interstate highways and the section of Route 101 that runs from I-93 in Manchester to I-95 in Newington.
"I agree the turnpikes are paying for the interstates,'' George Campbell said of his plan.
David Campbell said it's unfair for toll users to subsidize improvements throughout the highway system.
"Everyone in the southern tier is paying for the entire system,'' he said.
The turnpike and interstates make up only 7 percent of road miles in the state but 37 percent of the traffic, George Campbell answered.
Nearly 50 percent of projects in the state's $2.4 billion highway plan would be spent on turnpikes and interstate highways, he added
"Where is the backbone of our service transportation system," he asked rhetorically. "The answer is our turnpikes and our interstates. That's what I have come up with and what my plan is."
The DOT chief stressed his proposal would only let toll money be spent on turnpike and interstate highways.
State bond lawyers told the DOT that toll money could be spent on a "like highway facility" and the interstate highways would qualify, George Campbell explained.
The House committee went on record in opposition to DOT's turnpike and interstate merger.
The panel wants to replenish the highway fund by raising the state's gasoline tax by 5 cents a gallon in three consecutive years. The tax on diesel would go up 15 cents over nine years.
Lynch opposes any gas tax increase.
Lynch would raise auto registrations each year by $10, increase highway fees and raise all turnpike tolls except for the ramp tolls in Merrimack.
The Executive Council sets all toll rates.
Toll increases also would pay to install overhead technology at tollbooths in Portsmouth, Hooksett and Bedford to let those with an E-ZPass transponder go by at the speed limit.
The House has endorsed the highway fund sale of a portion of I-95 in Portsmouth to the turnpike system (HB 391). This nets the highway account $30 million over the next two years and relies upon the Executive Council voting to increase the I-95 toll in Hampton from $1.50 to $2.