Offer boosts soup kitchen contribution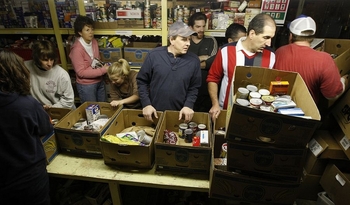 NASHUA – At the beginning of November, a donor, requesting anonymity, approached the Nashua Soup Kitchen & Shelter and offered to match any donation up to $500,000 until the end of the year.
Since then, Nashua Soup Kitchen & Shelter Executive Director Lisa Christie described the results succinctly.
"Huge," she said. "Absolutely huge."
As of the end of November, community donations have totaled $234,126 and the anonymous donor has already matched that.
Christie, the executive director since 1989, said that the offer has raised awareness and created a stir that the Nashua Soup Kitchen & Shelter desperately needed.
Those who have donated since the offer was announced have included notes saying 'this is for the match.' Christie even received a check from someone who apologized for only sending $50.
"Even people who are losing hours at work are still trying to contribute," Christie said. "There is really a buzz and people are really excited."
Christie believes that the community also recognizes a greater need this year, citing that the soup kitchen distributed 707 Thanksgiving baskets in 2008.
"People are aware that we are seeing an increasing number of people who are struggling as we're entering the recession," Christie said.
"People who have been donors to us are finding themselves needing some assistance."
With the recession, Christie understands that those who are now in need may feel embarrassed to ask for help, but she hopes that won't deter families.
"That's why we're here and that's why the community supports us. We're a safety net for people," she said.
"Most people don't want to have to seek help, but we're here."
Contributions can be sent to NSKS, PO Box 3116, Nashua, NH, 03061 or made online at www.nsks.org.