Obama's rise resonates with Milford students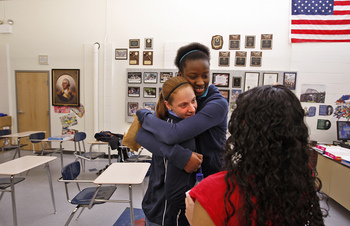 With two significant occasions back to back – Martin Luther King Jr. Day and the inauguration of the first black president, Barack Obama – one group of students understands this as a pivotal moment in the history of the United States.
"I never thought that I would see a black president," said Jessica Wamala, one of 12 seniors on Milford High School's "We the People" constitutional competition team. "Obama will bring hope."
The excitement and confidence these students showed is understandable. Teacher Dave Alcox has coached them to be clear and articulate and to think on their feet, which is a major reason the students won the state competition earlier this month and are preparing for another trip to the national competition in Washington, D.C., this April.
Some students were lucky enough to be able to vote in November's historic election, which gave them a chance to participate in the democratic process for the first time and get a firsthand look at the Constitution in action.
"If it was a white guy in a suit," said Jeff Agnew, a senior and first-time voter, "it wouldn't be a big deal."
"It's a huge milestone for African-American rights," added Daniel Wu, a senior.
"We the People" is a program run by the Center for Civic Studies designed to teach students the ins and outs of the Constitution and democracy.
Students compete regionally, and at the state and national levels, at a mock congressional hearing, testifying before judges on a variety of constitutional issues.
The Milford team has been to seven state competitions.
"They're electric," he said about his class. "That's what makes it so enjoyable."
As for Obama's inauguration, Alcox said he thinks it is a reflection of how society has grown.
"People used their right to vote to change the face of the government," he said.
Teaching the class to be able to elaborate on the reasoning behind the beliefs they have is something Alcox said has to be practiced inside the classroom as well as outside.
"They're electric," he said about hisbelieve they're looking for the government to change the face of America."
Most students are optimistic about the change that Obama has promised, while others are not assured.
"People overestimate his change," senior Vee Smith said. "It's not something that will happen overnight."
Others argued that Bush-bashing has led to some of Obama's popularity.
"People like to hear something out of the ordinary," said Stefan Sljukic, one of five juniors and an exchange student from Montenegro, a country in Eastern Europe.
"People were sick of the Republican Party."
With the country at such a pivotal time, Alcox and his students said it's important for people to understand what value this event is going to have in history.
Katy Kolasinski, a senior, thinks that this historic inauguration is something that America should be proud of. "It's a result of what 'we the people' did."