Obama draws thousands at NH forum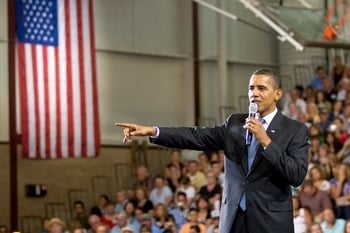 PORTSMOUTH – President Barack Obama returned to New Hampshire in hopes of restoring civility to the pitched, sometimes bitter national debate over his plan for universal health care.
"Let me just say there's been a long and vigorous debate about this, and that's how it should be. That's what America is about, is we have a vigorous debate. That's why we have a democracy," Obama said in opening remarks before a crowd of 1,800 inside the Stone Gymnasium at Portsmouth High School.
"But I do hope that we will talk with each other and not over each other."
Obama got just what he wanted from the supportive crowd that was so friendly, the president asked at the end of the hour-long, town hall-style forum to hear from skeptics.
All he heard were scattered complaints about his failure to criticize Congress for its Cadillac-style coverage and lack of a strategy for how to cope with a national shortage of primary-care doctors and nurses.
The Democratic president repeatedly went on the offense to rebut criticisms about the outline of his proposals, most pointedly that his plan to cut Medicare by $50 billion would reduce care for senior citizens.
National polls show senior citizens are the biggest skeptics of Obama's plan.
Obama said the cuts wouldn't be to benefits, but to subsidies such as the $177 billion given to private insurers that offer a Medicare Advantage plan that competes with traditional Medicare.
And Obama said it's ironic to hear seniors oppose having a government-run option to private health insurance plans even though Medicare is publicly run and paid for.
He scoffed at claims that the public option would drive private firms out of business, offering package delivery service as the proper case study in point.
"UPS and Fed Ex are doing just fine; it's the post office that is always having problems," Obama said.
"So right now you've got private insurers who are out there competing effectively, even though a lot of people get their care through Medicare or Medicaid or VA. So there's nothing inevitable about this somehow destroying the private marketplace."
And Obama said the attacks should not divert the American people from supporting his agenda for health care.
"Because for all the scare tactics out there, what is truly scary – what is truly risky – is if we do nothing," Obama said to loud applause.
Several hundred protestors for and against Obama's plans lined up on opposite sides of the street leading to the high school.
A torrential downpour greeted them upon their arrival but the citizen activists weathered the storm to turn out in droves.
"We need to make sure health care is not brought under the government," said Daniel Bacon, a 52-year-old, retired military veteran from North Conway.
"Our liberties are being destroyed. This is one of the fascist things this administration is doing."
But Steve Lindsey, a former Coast Guard tugboat worker from Keene, said a government-run insurance should replace the existing private market.
"This should not be about protecting big PHARMA, big insurance and big corporations that try to cherry pick who they are going to cover," said Lindsey, a Democratic state legislator.
Foes bore homemade signs that read, "Socialism Sucks: Leave My Health Care Alone" and "Live Free, Just Not Too Long" and "Something's fishy with Obama health care."
The fish reference is to the White House advising supporters to report when they hear criticisms brought against his plan.
Critics claim it's an attempt to stifle free speech, but Obama insisted it was just the opposite.
"What we've said is that if somebody has – if you get an e-mail from somebody that says, for example, "Obamacare is creating a death panel," forward us the e-mail, and we will answer the question that's raised in the e-mail," Obama said.
"Suddenly, on some of these news outlets, this is being portrayed as 'Obama collecting an enemies list.'"
Leaders of both protesting groups said they were pleased the exchanges never escalated beyond an occasional shout at the other side.
"Once the rain stopped, everything got very civil," said Arnie Alpert, head of the state American Friends Service Committee chapter that supports Obama's plan.
New Hampshire Republican State Chairman John H. Sununu told reporters during a conference call that Obama and Congress should slow down the debate and give critics more time to be heard.
And Sununu said Obama's domestic agenda will create record federal deficits that will saddle future generations with debt.
"President Obama is bankrupting America and when you bankrupt an entity, you gut its capacity to lead," Sununu concluded.
"He's got to start thinking about the cost instead of ignoring the cost."
Obama repeated Tuesday, however, he would not sign a health-care reform bill that adds to the deficit.