Not a member of NHBR Network yet?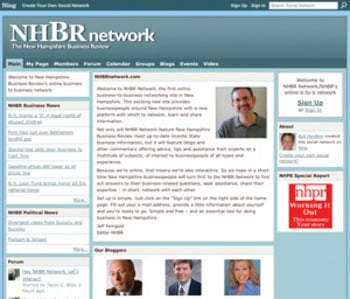 With over 120 people signed up to take part in just a couple of weeks, NHBR Network is well on its way to fulfilling its promise as New Hampshire's only online business-to-business networking site.
NHBR Network is designed to be a forum where the state's businesspeople can share resources, information, ideas, opinions – anything that businesses can use to keep up to date and competitive.
Modeled on LinkedIn and Facebook, NHBR Network gives members their own page from which they can post blogs, seek advice from or offer help to other members, form discussion groups, add events to our live interactive calendar, post videos and photos – in short, it's a great tool for networking and doing business.
Set up is simple. Just go to http://nhbrnetwork.ning.com, click on the "Sign Up" link on the right side of the home page. Fill out your e-mail address, provide a little information about yourself and you're ready to go. Simple and free – and an essential tool for doing business in New Hampshire.
Another highlight of NHBR Network is an array of bloggers already hard at work, offering their expertise on topics ranging from the law, business financing and marketing to employer-employee relations and organizational development.
Here's just a sampling of some of the insights and information NHBR Network bloggers have already imparted.
Marketing executive Chuck Sink on why New Hampshire is a great place to sell:
If you have a great product or service to offer, and there is a market for it here, it needn't take long for you to establish your brand. Business leaders and the media welcome innovative thinking and remarkable ideas. There are networking opportunities galore in this state … The key is consistency. Join, show up, participate and take on leadership roles among your business peer groups. In no time you'll become known as a go-to person in your field. As a salesperson you can establish your personal brand in much the same way that small business owners here do.
http://nhbrnetwork.ning.com/profiles/blogs/why-new-hampshire-is-a-great
Employee development consultant John Benson on emotional social intelligence:
It goes without saying that some professions absolutely require emotional social intelligence, such as sales, politics, leadership, teachers, and social workers. But research has shown that people in the technical profession that have mastered the entire emotional social intelligence skill set quickly move ahead of the pack. Imagine the whole pack being emotionally and socially intelligent – a great competitive advantage in the world of high tech.
http://nhbrnetwork.ning.com/profiles/blogs/the-silver-bullet-to-high
Construction company executive Everett Pollard on wine cellars:
For many years, my own "wine cellar" was a spare closet in the basement, a marginal solution at best. I became inspired to design and build my own real wine cellar after my wife Robin and I attended a meeting in the Napa Valley area. We spent an extra five days touring the vineyards and sampling many wonderful wines. After seeing some incredible wine cellars and tasting rooms, our old closet in the basement no longer measured up! However, there was a 6′ by 7′ corner of my basement workshop next to the family room that I really wasn't using to its potential …
http://nhbrnetwork.ning.com/profiles/blogs/is-there-a-wine-cellar-in-your
Jason Blais of JobsInTheUS.com on new business initiatives:
It really does take a village to raise a healthy, competent, confident, and successful child. In my world, it takes a village to develop a new business initiative to maturity and lasting success. While you may be thinking of the old adage, many hands make light work, there's much more to it than that. A new business initiative must receive nurturing and attention from many different people and departments within the organization to truly thrive. And long- term success in business development is reliant on the maturation and lasting success of each new initiative.
http://nhbrnetwork.ning.com/profiles/blogs/goal-of-business-development
Training and development consultant Heidi Page on the costs of a business choosing "lean":
In a time where being "lean" is imperative, be cognizant of just how much an initiative will cost the business, weighing money against time, energy and the emotional toll it can take on staff that are being asked to do things outside of their comfort zone.
http://nhbrnetwork.ning.com/profiles/blogs/when-do-it-yourself-to-be-lean
Employment consultant Bill Ryan on career development:
What exactly is meant by career development? A definition depends on perspective. From an organizational viewpoint career development is seen as the procedures necessary to advance employee value to meet organizational strategic demands. From the view of a worker, career development involves the integration of cognitive, behavioral, emotional, and contextual factors that determine employment decisions, work values, and life roles such that a profound satisfaction with what one does is achieved. My primary and professional concern is with the worker who needs to cultivate the elements that comprise their professional growth.
http://nhbrnetwork.ning.com/profiles/blogs/being-employed-and-your-career
Steve Boucher of the state Division of Economic Development on social networking:
Social marketing is replacing the golf course as a prime networking … By establishing both a personal and professional social marketing presence, I have reconnected with people I had lost touch with and forged new bonds with people I might never have been introduced to otherwise. I have expanded my professional network and developed partnerships that will ultimately save the State of New Hampshire time and money. More importantly, I have found a way to reach out to an audience who might never have contacted us for services were it not for these communications vehicles.
http://nhbrnetwork.ning.com/profiles/blogs/why-you-should-care-what-joe