North, South students examine recession in forum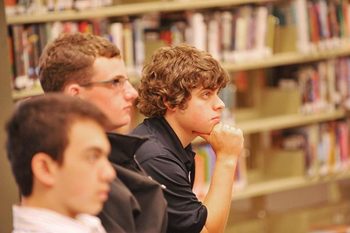 NASHUA – With New Hampshire's unemployment rate at 6.3 percent and banks foreclosing on properties daily, the state of the economy could perhaps be best described by a high school junior.
"That's just terrible," Nashua High School North student Andrew Thurston offered.
But Thurston wasn't reviewing employment and foreclosure statistics – two financial indicators used in most any review of the economy.
Rather, the teen focused his remarks on even deeper economic matters. Thurston held court Monday on gross domestic product and national debt.
His assessment came as part of an economic symposium hosted at Nashua North and attended by 125 students from North and Nashua South.
They listened to lectures and discussed the global economy, employment, consumer goods, trade deficits, securities and bonds, and what led to today's recession.
The goal was to have the students better understand the factors behind the economic crisis, and what they will possibly face after graduating from college, said Dave Goldsmith, North's head social studies teacher and organizer of the symposium.
Thurston's academic track has him graduating college five years from now, but he already has a grasp of the forces behind the world economy. He and several of his advanced-placement macroeconomics classmates gave short lectures on currency, debt and the interconnectedness of countries' economies.
Foreign countries own 25 percent of U.S. foreign debt, which totals $8.5 trillion, Thurston said. Foreign debt will thus comprise 35 percent of U.S. gross domestic product in 2010.
"That's disgusting," Thurston said.
Afterwards, three of the lecturers – Thurston, senior Josh Ramos and junior Sama Kadakia – said that despite their understanding of the economy, it was still hard to predict how and when the recession would end.
"The government is pumping money into the economy, so that will help," Kadakia said.
"It'd be great if everyone would be spending," Thurston added.
Down the hall, North government and economics teacher Charlie Ziniti took a reprieve from statistics to question which photographs would best define the recession, much as the shot of a sailor kissing a woman in Times Square symbolized the end of World War II.
The students preferred a photo of a man holding a placard for a Circuit City going-out-business sale and a tight shot of an AIG skyscraper seemingly ascending without end.
But perhaps the starkest symbol of how deep the recession runs came from guest speaker Joe Guilfoyle.
He had "employment" written on a marker board. But to begin his talk, Guilfoyle said it should realistically be about the flip side. He added "un" to "employment."
Guilfoyle was laid off from Fidelity in February. He told students they have to be mindful of staying relevant in the work force by networking, learning new skills and constantly assessing their careers.
They had to offer employers skills that will stand out over three other people, Guilfoyle said.
That's because one out of every four people will be competing for the same job, he said.
Junior Ann Lehto won't enter the work world for a long time; she wants to attend medical school. The cost of that education weighs on her family, so Lehto has already decided to earn her undergraduate degree from a college close to home.
"Money is always a factor," said junior Astrid Alvarado, who, like Lehto, said she doesn't spend much but instead prefers to save money.
One of the lectures they attended was the psychology of spending. North psychology teacher Paul Menard asked students, among other things, if they genuinely need to have a cell phone with a camera and Internet access.
Consumers' behavior predicts their spending habits, and their spending influences the economy, Menard said.
For instance, with gas not as costly this summer as it was last summer, there is less demand for hybrid automobiles, he said.
Junior Tyler McAfee attended that lecture, and at day's end believed he had a better take of the recession.
"It was good. There was no bias and no spin," McAfee said. "It helped me understand in more detail what caused it and how we can get out of it."