North officials make conference call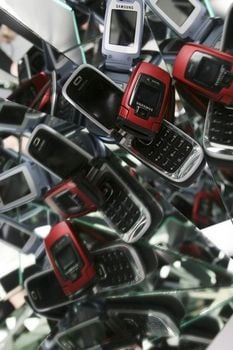 NASHUA – With students finding ways to use their cell phones in all the wrong ways, administrators at Nashua High School North are hoping to educate parents about how to curb the problem.
The school is hosting a parent advisory council meeting Thursday night, where one of the topics will be addressing the use of cell phones in conjunction with social-networking sites and the Internet.
Salem High School went through a situation recently where nude images of at least two female students were being distributed via cell phone. The issue prompted police to hold an assembly at the school to warn students about possession of child pornography.
There was an incident earlier this year where students at Pennichuck Middle School used a cell phone to record a fight, which was posted on YouTube before being pulled down.
Principal David Ryan said both of those incidents concerned him and he hopes that a discussion with parents will help them better understand what the potential dangers are.
The parent forum will be held from 6:30-8 p.m.
Ryan said the school has been dealing with issues of its own, with students fighting just off campus and using their cell phones to record them and put them online.
There is an increased temptation among students to use their cell phones in inappropriate ways, without realizing the full implications of their actions, he said.
"That's precisely the kind of behavior we're trying to attack," Ryan said.
BUSES TO THE MEETING
Ryan said administrators do monitor sites like Facebook, MySpace and YouTube for inappropriate behavior. Although students generally can't be disciplined for their behavior while not in school, Ryan said parents are notified if something is found.
Ryan said the use of cell phones is prohibited while in school.
The overall theme of the night is managing student behavior, and in addition to the discussion on use of cell phones, there will be a presentation on student involvement in gang activity.
Ryan said the issue of gang activity, although not as prevalent in large cities, has reached its way to Nashua and become an issue in the schools.
Parents from the middle schools have also been invited, he said.
Ryan said issues about behavior expectations are addressed in the school's Freshman Seminar course, but he said getting parents educated and involved is also critical.
"There is a rising level of disrespect between students and students, and between students and staff," he said.
School resource officers will be conducting the presentations. Ryan said he and other administrators would also be at the meeting to answer questions from parents.
"It gives us an opportunity to have a conversation with them," he said.
The school will be providing free transportation for parents in lower-income neighborhoods to and from the school, and there will be free child care on site as well as refreshments.
Ryan said the school has been holding similar types of parent nights over the past few years but said it's typically the same group of a dozen parents that show up.
It's good to have that core group of parents involved, he said, but added that he's hoping more focused and timely topics and free transportation will get more parents to be part of the discussion.