Nine fresh new recruits coming to Nashua's (Fire) Rescue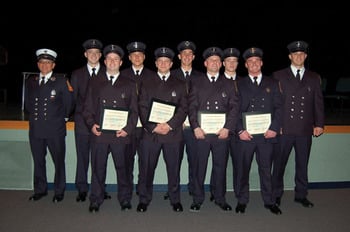 After nearly a year of probation, nine new recruits have joined Nashua Fire Rescue.
They are: Brett Anderson, Jonathan Curran, Joseph Derusha, Matthew Ellia, Bradley Keeler, Timothy Keohane, James Lamb, Michael McInnis and Richard Meyer.
The first step on the road toward joining the department was to pass the New Hampshire statewide entry-level firefighter examination. The recruits then went through a physical agility test in which they had to run a 1.5 miles in 12 minutes, and then crawl through a maze and climb the aerial ladder.
After that, the chief and board of fire commissioners interviewed the recruits.
Then came six more weeks of training at the Nashua Training Grounds, and the rest of their probation was in the stations with more training and bookwork with the other firefighters and officers.
On April 13, the recruits were promoted to Nashua firefighters in a ceremony at Daniel Webster College. Family and friends were present.
Some of the new firefighters are continuing a family tradition.
Lamb is a third-generation firefighter with Nashua Fire Rescue. His grandfather is retired Deputy Chief Jim Lamb, and his father, Gary Lamb, has 27 years of experience.
Anderson is the son of Assistant Chief Keith Anderson, and he has two brothers on the department, Keith and Wayne Anderson.
Nashua . . . From the Inside was compiled by staff writer Patrick Meighan, who can be reached at 594-6518 or pmeighan@nashuatelegraph.com.