NH's 'Mr. Democrat' has last hurrah with Obama win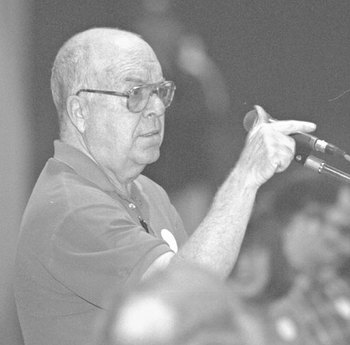 MILFORD – Days after New Hampshire Democrats maintained control of the state, riding overwhelming support for President-elect Barack Obama, a man known by his fellow Democratic activists as "Mr. Democrat" announced that he is leaving politics.
Bill Marot, 74, has been working for Democratic candidates since the 1960s and this year campaigned for U.S. Sen.-elect Jeanne Shaheen, visiting towns and cities in southern New Hampshire and helping her win her comeback victory over U.S. Sen. John Sununu.
Last week he spent a day in Manchester's poorer districts, where some people told him they didn't know who Shaheen was.
So he told them: "Barack wants her for the U.S. Senate."
Marot's long career started in West Virginia, campaigning for John F. Kennedy with Endicott Peabody, who would eventually become a Massachusetts governor. They went together into coal mines to convince the miners, whose life expectancy at the time was 50, that Kennedy would take their problems seriously.
He remembers people saying the Catholic candidate would never win the heavily Protestant state, but Kennedy won West Virginia by a 2-1 margin.
"Obama brings the same kind of enthusiasm," he said. "It's not how long you serve, it's what you do. He's cool, calm and collected" and will help people find a middle ground.
Marot, who tries never to say a bad word about anyone, said, "McCain will help Barack Obama," and said the
Re Republican candidate's concession speech showed the "real John McCain."
Marot worked as an aide to Peabody when he became governor of Massachusetts in 1963, and then came to New Hampshire when Peabody ran in the New Hampshire vice presidential primary in 1972.
His love of the Democratic Party started when he was 8 years old and driving with his parents, two ardent Republicans, past President Franklin D. Roosevelt's Hyde Park estate in New York "My mother said, 'Sit up, that's FDR's home,' and I was hooked," he explained.
Partisan politics can be an ugly game, but Marot strove always to be gentle, kind and loyal and likes to quote Mark Twain: "One ounce of loyalty is worth more than a pound of cleverness." He and his wife, Evelyn, plan to move to the West Coast in a few years to be near their children. And, of course, they plan to attend Obama's inauguration in January.