NHBR to celebrate 30 years at awards event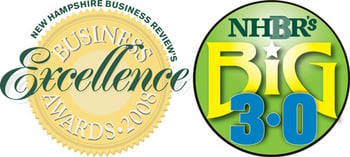 Not only will the achievements of some impressive New Hampshire businesspeople be celebrated as part of the sixth annual Business Excellence Awards festivities, but so will NHBR's 30th anniversary.
The evening — which begins at 5 p.m. Wednesday, Oct. 8, at The Event Center at C.R. Sparks in Bedford — will include a champagne celebration and an extended period for networking after the presentation of the annual Business Excellence Awards. Radio talk show host Charlie Sherman of WGIR-AM610 will emcee.
This year's Business Excellence Awards competition attracted more than 60 nominees in 14 different award categories. They are the owners and operators of businesses with 100 employees or fewer who have displayed imagination, industriousness, innovation and achievement in their career. Winners and inductees to the NHBR Business Excellence Hall of Fame will be announced at the Oct. 8 event.
"This year there has been more interest than ever in the awards," Feingold says. "We hope friends, family and colleagues come to support the nominees — and help us celebrate our anniversary."
Admission is $10; $8 if you RSVP by Oct. 3. You can make reservations by contacting 603-413-5135 or e-mail sspiliotis@nh.com.
Proceeds benefit CASA of New Hampshire, an organization that provides volunteers to serve as advocates for abused and neglected children in the New Hampshire court system.
Sponsors of the event include FairPoint Communications, Laconia Savings Bank, Public Service of New Hampshire, Harvard Pilgrim Health Care, PC Connection, Merrimack Street Volvo, Charter Trust, WGIR-AM610, New Hampshire Public Television and The Event Center at C.R. Sparks.