NHBR Health Care Forum set for Oct. 6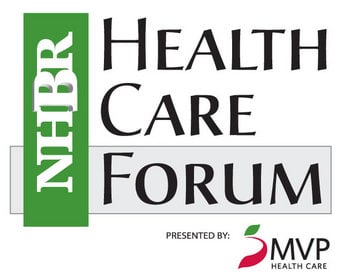 Businesspeople from around the region will gather Oct. 6 for the second annual NHBR Health Care Forum presented by MVP Health Care, where they will be able to learn about financial incentives, employee engagement, workplace culture, payment reform initiatives and their impact on costs.
The forum, set for 7:30 to 11:30 a.m. Wednesday, Oct. 6, at Southern New Hampshire University, is titled, "What's Working, What's Not and What's Next?" It will bring together businesspeople and experts from around the state to discuss how companies can work collaboratively to transform employer-based health care.
The keynote address will be presented by Dr. Jason Hwang, co-author with Clayton Christensen of "The Innovator's Prescription: A Disruptive Solution for Healthcare" and co-founder and executive director of health care at California-based Innosight Institute.
The program will be moderated by Peter Hayes, principal of Maine-based Healthcare Solutions and member of the National Business Group on Health.
Following the keynote, panelists will offer their own experience on advancing employer-based health care through methods of personal accountability and wellness, including their financial significance.
Panelists include:
• Dr. Robert McLellan of Dartmouth-Hitchcock Medical Center
• Heather Staples of the University System of New Hampshire
• Gray Chynoweth of DYN Inc.
• Dawn Barker of RiverWoods at Exeter
• Deane Ilukowicz of Hypertherm
A networking breakfast will be held from 7:30 to 8:30 a.m. Early-bird registration is open through Sept. 30, with tickets $37 per person. From Oct. 1-4, cost is $42 per person. Group discounts are available for purchases of 10 or more tickets.
To purchase tickets, visit NHBR Health Care Forum.