NHBR About Town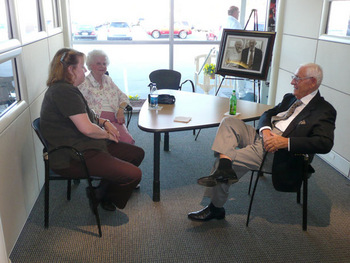 New Hampshire Travel Council
The New Hampshire Travel Council selected Erica Murphy, second from right, director of communications and community relations for The Common Man family of restaurants, for its 2008 Advertising and Public Relations Award. With her are her father Sam Auciello of Manchester, Gov. John Lynch, and her mother, Cheryl Simmons of Laconia.
2008 College Equal Opportunity Scholarships
At the ceremony announcing winners of the 2008 College Equal Opportunity scholarships are, from left: Jeff Feingold, New Hampshire Business Review; Mary Ellen Jackson, New Hampshire Center for Non-Profits; René Drouin, program sponsor, the NHHEAF Networks Organizations; Tom Raffio, Northeast Delta Dental; and scholarship winners Khiet Nguyen (front), Regina Labounty, Kayla Shepherd and Bridget Burke.
Lonza Biologics
Employees at Lonza Biologics, Portsmouth, take a break during work at the Great Bay Kids Company playground as part of the United Way of the Greater Seacoast's third annual Spring Day of Caring.
Tulley BMW Nashua
Jan Mahfuz, left, Vincent Tulley, center, and Sy Mahfuz chat during the opening of the new Tulley BMW showroom in Nashua.
Ocean Bank Keene
Ada Parker cuts the cake on her 90th birthday at a party held at Ocean Bank in Keene, where she still works full time as a branch service representative on the teller line and manager of the safe deposit area.
Concord Chamber Business After Hours
From left, Ruth Coneys, owner of Say It In Stitches Embroidery, with Ruth Grappone and John Grappone, founder of Grappone Ford, at the Greater Concord Chamber's Business After Hours, held at the Bow dealership.