NHBR About Town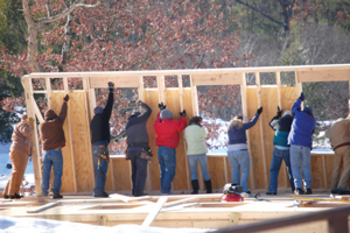 Home Depot employees from around southern New Hampshire raise the walls of the newest cabin at Camp Allen in Bedford, which provides opportunities for children with disabilities. Designed by Dennis Mires Architects, the cabin was built with the help of Home Depot, which provided $25,000 in materials and labor toward the project.
For more About Town photos from this issue, visit NHBRNetwork.com.
Submit items for About Town to editor@nhbr.com. Please include a color photo and a brief description.