NHBB, PSNH honored for pollution prevention efforts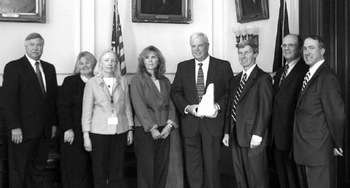 New Hampshire Ball Bearings' Astro Division and Public Service of New Hampshire were presented in September with the 2007 Governor's Award for Pollution Prevention.
The award, presented through the Department of Environmental Services' New Hampshire Pollution Prevention Program, recognizes outstanding pollution prevention practices among businesses.
NHBB's Astro Division in Laconia manufactures spherical and rod end bearings for the aerospace industry. The company has dedicated itself to establishing and maintaining an environmental management system, which includes internal and external commitments to reduce their facilities' environmental footprint. As part of the regular planning process for their EMS, annual goals are established, along with targets and implementation plans for pollution prevention.
Between 2003 and 2006, the Astro Division reduced its hazardous waste by 8,768 pounds and its non-hazardous waste by 191.4 tons waste. Additionally, its emissions reductions were 365.4 metric tons of carbon dioxide, energy reduction was 4,251,650 kWh and it recorded a net water savings of 189,817 gallons. NHBB also has introduced an aggressive recycling program. All told, the company saved over $513,000 per year through its efforts. 
In accepting the award, Herb Parkhurst, the Astro Division's facilities manager, said the award "symbolizes our ongoing commitment to reducing our environmental footprint, an important civic and strategic objective shared by all of us at NHBB and our parent company, Minebea Co. Ltd."
Public Service of New Hampshire was recognized for its Northern Wood Power Project, one of the largest renewable energy repowering projects in the country.
By switching from coal to wood, the facility reduced air emissions by 2,045.5 tons and No. 6 fuel oil by 600,000 gallons a year. In addition, the facility reduced coal ash, which would normally require landfill disposal by 50,000 tons per year.
Gary Long, PSNH's president and chief operating officer, said the project "is an example of what can be accomplished when we work together toward a common goal – in this case, clean renewable energy and a boost to the local and the forest economies."
In addition, four New Hampshire businesses and organizations received honorable mention awards for their pollution prevention efforts. They were:
• The New Hampshire Adjutant General's Department
• Monadnock Paper Mills of Bennington
• Ripano Stoneworks of Nashua
• Southeastern Container of Hudson.
For more information about the New Hampshire Pollution Prevention Program, call 603-271-6460 or visit www.des.nh.gov/nhppp.