NH residents hold vigil for Mumbai victims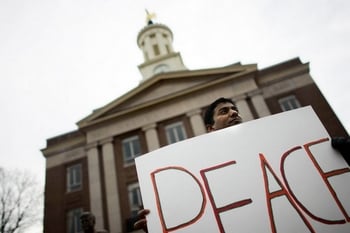 NASHUA – As a coordinated series of terrorist attacks unfolded in Mumbai, India, 15-year-old Sathvika Reddy and her family could only watch in horror from a world away.
"The whole Thanksgiving, the TV was on," said Reddy, a student at Nashua High School North. "We just couldn't believe it."
Reddy's family was one of many of Indian descent living in New Hampshire who felt a personal connection to the attacks, which claimed the lives of at least 172 people.
Reddy was one of about 100 people who gathered at City Hall in Nashua on Saturday for a candlelight vigil organized by the India Association of New Hampshire to remember the victims of the terrorist attacks.
"This was a sad human tragedy," said Prithvi Kumar, president of the organization. "We were saddened by the number of people who gave their lives."
Kumar said he used to live close to where the attacks occurred and said it was shocking to watch violence unfold in areas that had always been peaceful and safe.
The attacks began Nov. 26 and spread across the city to at least 10 locations. Explosions rocked the Taj Mahal Palace and Tower hotel, where guests were held hostage. The last gunmen were killed Nov. 29.
The vigil was scheduled to be held in front of the building but was eventually moved into the rotunda inside City Hall because of the cold weather. Mayor Donnalee Lozeau escorted the group inside.
Sandhya Sridhar and her daughter Vasanthi opened the vigil by reading a prayer called "Vaishnav jan to." The group held a moment of silence, and then lit their candles.
Tej Dhakar, of Manchester, said the event was meant as an opportunity for all people to express solidarity with the victims and their families.
Dhakar said his wife have relatives who live in the area of the attacks.
They were all unharmed, but he said he and his wife spent much of their time during the attacks trying to get in touch with them. "It was very shocking to see how daring the attacks were," he said.
Dhakar worked in Mumbai for a period and knew one of the sites of the attacks well: the Chhatrapati Shivaji Terminus station, where the first shootings occurred.
"I used to work right opposite that station," he said.
Sadananda Phadke, of Nashua, stood on Main Street holding a sign that said "Peace." Others held signs that said "Stand Up Against Terrorism" and "We Salute the Heroes."
"It was a horrific incident," Phadke said, adding that the attacks were a grim reminder that terrorism is still alive and can strike anywhere at any time.
Pictures of some of the victims of the attacks were placed in front of the podium. Among those pictured were Alan Scherr and his 13-year-old daughter, Naomi, both of Virginia. They had traveled to India for a meditation retreat.
The vigil had an overarching theme of unity between India and America. Organizers had put up the flags representing both countries. Lozeau offered her sympathies to the local Indian community.
"This is something I don't think we could ever understand on any level," she said.
A group of three girls – Reddy, Siddhi Salvi, 16, and Meghna Chandra, 17 – led the group in a singing of the Star-Spangled Banner. Everyone then joined in singing the Indian national anthem, Jana Gana Mana.
Some of the younger attendees, such as Chandra, were born in America, but come from a family who immigrated to the United States. Because she has lived in this country her whole life, Chandra said the terrorist attacks of Sept. 11, 2001, affected her in a much more personal way. "But at the same time, (India) is our home country and we're still connected to it," she said.
Salvi said a family friend was one of the members of the police force who lost their lives in the attacks.
"I didn't know terrorism could hit that close," she said.
Nagendra Bhanu, of Manchester, lived in Mumbai before moving to New Hampshire in 1999. He had friends who were in local restaurants during the attacks, some of whom sustained serious injuries.
"We were up sending e-mails and making phone calls late at night," he said.
Bhanu said there are now feelings of anger among those in the Mumbai area and questions about how something like this could happen.