NH Public Radio listens to listeners at forum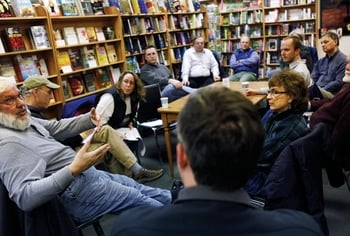 MILFORD ­ Public radio fans are nothing if not passionate about their favorite station, including local listeners who gathered at the Toadstool Bookshop this week.
The dozen or so people who came to New Hampshire Public Radio's "sounding board" on Wednesday night pulled no punches as they met with Program Director Abby Goldstein and three other station managers who were here to gather feedback.
One of the things local listeners said they don't like is Goldstein filling in for Laura Knoy on "The Exchange," the weekday morning public affairs program.
"The economy is tough," said Goldstein when the laughter died down. "We try to find an internal solution" to staffing problems.
Predictably, the NHPR fans said they don't like on-air fundraising, and uneven signal reception.
And they agreed the station's weather forecasts are no good.
"The joke in our house," said Toadstool owner Willard Williams, "is it's for yesterday afternoon."
"I don't live on the top of Mount Washington, so I don't care about the weather there," said Travis Belcher, of Wilton.
"I get the feeling that NPR is aimed at a younger crowd," said Annette Immorlica, of Mont Vernon.
Adam Bilz, of Milford, said he "would sacrifice 'This American Life' to have more about New Hampshire."
Dave Day of Amherst said the station is "too produced" and "too buttoned up" and needs more voices.
"I want to hear what it sounds like in Portsmouth when there's a celebration," he said. "I want to feel the pulse" of the people in New Hampshire.
NHPR people brought some candor of their own to the session, telling the listeners what shows were considered "repellant" to New Hampshire listeners, including Michael Feldman's "Whad'Ya Know" and the cooking show, "The Splendid Table."
Tom Schmidt, of Milford, also had some good words for the NHPR team: "We forced our daughter to listen when she was a child," he said, "and now she's a subscriber."
Other listeners said they think the programs are unbiased, though the station "leans a little to the left."
Joe Grace of Milford said he and his wife were amazed when the station profiled third-party candidates for president.
Shows mentioned favorably were "The Diane Rehm Show," "Speaking of Faith" and "A Prairie Home Companion."
Immorlica said she might consider becoming a subscriber again if she knew the salary of the station's president.
"I don't want to pay for membership if the president is making $500,000," she said.
Peter Leonard, NHPR's corporate relations/underwriting representative, told her she can walk into the station's office in Concord and look at its IRS Form 990 filing.
"It's a very valid issue," Leonard said.
"We are asking donors to give us money."
Someone else told the NHPR team he would like to be able to listen to Al Jazeera, the Arab station.
Dave Day suggested the station offer specialized podcasts so listeners can download only the programs they want.
That was an idea Williams said alarmed him.
"I think it's important to have some commonality, to have a shared experience to bring us all together," said the Toadstool owner.
Listeners were also interested in paperless membership renewals and electronic fundraising.
The "sounding board" session grew out of NHPR's community advisory board, and the station has been holding the sessions for years.
"It's been really helpful to me as a newcomer to the state," said Goldstein, who comes from Dallas.
The independent bookshop was not chosen at random as the location for the Milford-area listening session.
"Toadstool is one of our longest and oldest supporters," Leonard said.
Kathy Cleveland can be reached at 673-3100, ext. 21, or kcleveland@cabinet.com.