Newcomer ousts School Board chief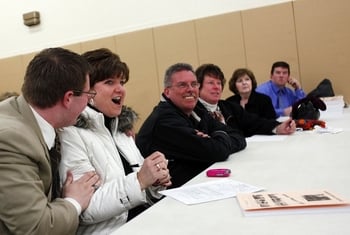 HUDSON – A political newcomer unseated the longtime chairman of the School Board during Tuesday's town voting.
In a two-person race, Laura Bisson, a mother who has been active in local parent groups, defeated David Alukonis, chairman of the board for the past eight years.
Bisson defeated Alukonis, 1,521 to 1,302 for the three-year seat on the board. Bisson has never held political office, but she served as co-chair of the PTO at Nottingham West Elementary School and also serves on the school's playground committee.
"I feel like this is just the next step for me to make a difference," said Bisson, who has two children in the school district.
After the results were announced at the community center, Bisson shook hands with Alukonis and received congratulations.
Alukonis has been a member of the board since 2000. While the loss was disappointing, there is a "big laundry list" of accomplishments he could look back on during his time on the board, including working on long-term planning, he said.
On the school side, voters approved the proposed operating budget of $41,461,276, but rejected all three collective bargaining agreements that were put before them, including the proposed agreement with teachers.
Voters also rejected 2 percent raises for nonunion employees but approved $100,000 to be placed in the school renovation capital reserve fund.
On the town side, results had Selectmen Shawn Jasper and Ben Nadeau retaining their seats, receiving 1,787 and 1,586 votes, respectively. Challenger Marilyn McGrath received 1,574 votes, with 142 write-ins.
Because of the large number of write-ins, Paul Inderbitzen, the school and town moderator, cautioned that the results were only preliminary. Inderbitzen said write-ins had yet to be tallied.
With 1,633 votes, Selectman Roger Coutu won in the race for a one-year term on the board, defeating challengers Maryellen Davis and Jake Nazarian, who received 919 and 201 votes, respectively.
Coutu was appointed to the board after Doug Robinson resigned. The race was to decide who would fill out the rest of Robinson's term.
Also on the town side, voters rejected the proposed operating budget of $26,935,059. That means the town will operate under the default budget, which is $26,886,556.
Voters also rejected 3 percent wages and benefit increases for library employees, non-union personnel and for the town clerk/tax collector.
Also shot down was funding for a land assessment where a new fire station could be built and replacing a VacCon truck.
It was a split for seniors as voters nixed paying for a part-time senior services director but approved putting $50,000 into a reserve fund for the senior center.
Although most spending measures were rejected on the town side, voters did approve $155,000 to purchase a replacement ambulance.