Newbies to the Senate to listen up in first year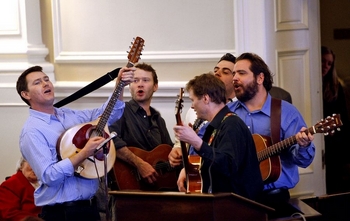 CONCORD – The two new state senators from the Nashua area said they'll spend the early part of their first year in office listening for solutions rather than offering many of their own.
Sens. Bette Lasky, D-Nashua, and Peggy Gilmour, D-Hollis, come from different backgrounds, replacing two Democrats from Nashua, Majority Leader Joseph Foster and David Gottesman, who retired.
Lasky is a former 10-year state legislator and longtime political activist, and Gilmour is a political newcomer, running for the seat after a long career as a nonprofit health administrator.
But both have the same ap But both have the same approach to their new role.
"My style is to learn for a while and keep looking at ways I can be most productive rather than pushing ahead with all kinds of new ideas," said Gilmour, who won decisively in a swing district that includes Nashua Wards 1, 2, 5 and 9 along with Hollis, Brookline and Mason.
"I'm a pretty quick study."
Lasky said she too has chosen not to sponsor many of her own bills in taking the District 13 seat that is decidedly more Democratic – Nashua Wards 3, 4, 6, 7 and 8.
"We didn't have a whole lot of time to prepare new legislation, but that's fine with me," Lasky said. "I think this is a year in which the state budget problems are going to dominate."
The two are sharing a first-floor office in the Statehouse, the same one that Gottesman and Foster shared after the 2004 election.
They also sat together in the front row of Representatives Hall on Thursday and praised the third inaugural speech of Gov. John Lynch.
Gilmour said she's been struck by how much of the job is nonpartisan and how offers of assistance have come from all quarters.
"I've got Bette on one side of me in the chamber and Peter Bragdon on the other," Gilmour said, referring to the Milford Republican who is the Senate's top Republican for the next two years.
"I think the cooperative spirit has been great."
Gilmour offered a bill that stems from her career past, having founded the state's first hospice program in Nashua.
It would create a commission to look into whether those on the Medicaid health insurance program for the poor, elderly and disabled should get a guaranteed insurance benefit for end-of-life care.
"We are one of only two states that doesn't have a hospice benefit; Oklahoma is the other one," Gilmour said.
"I think we can make the case that this is not only the humane thing to do, but it's also a more cost effective form of care."
Gilmour has also agreed to offer legislation that would allow a pharmacy that is left out of a health maintenance organization network to be able to contest that decision in state court.
"To me, it's a simple fairness issue," Gilmour said.
For Lasky's part, she wants to continue working to make commuter rail from Boston through Nashua a reality.
Lasky wrote the state law last year that placed a $75 million limit on insurance-covered damages that result from a commuter train accident.
Supporters of the project said getting the cap was essential for the New Hampshire Rail Transit Authority to be able to afford liability insurance coverage.
"I want to keep the rail project moving forward and am fully prepared to do whatever is necessary for that to happen," Lasky said.
Supporters want to create in the two-year state budget at least a $100,000 account to continue planning efforts.
There's also a separate bill for 2009 to add a member to the rail authority board so that its departing chairman, Peter Burling, D-Cornish, can return to the panel even though he's no longer in the Senate.
Meanwhile, Transportation Commissioner George Campbell has said he hopes that commuter rail work will be included in the fiscal stimulus package that Congress and President-elect Barack Obama come to an agreement on this winter.
Lasky and Gilmour said they want to use their positions to help those hardest hit by the economic recession and were glad that Lynch was optimistic that the state can weather its own budget crisis.
"He really showed an ability to say to the people of New Hampshire that we're on top of this and that while it's not going to be easy, we're going to solve this and take care of people who need us," Gilmour said.
"That showed to me a real quality that any leader has to have, inspiring confidence for the people to follow his or her lead."
For new senators, both have gotten big-duty assignments.
Lasky will chair the House Election Laws and Veterans Affairs Committee.
"We'll be tackling the issue of whether to have public financing of state elections and also what we, as a state, should be doing to help those soldiers who will over the coming months be transitioning home from Iraq," Lasky said.
She also has a seat on the Senate Education Committee that will take up any plans to change the aid funding law, the Energy and Environment Committee and is vice chairman of the Judiciary Committee that will discuss whether there needs to be more superior court judges.
Gilmour has a seat on the Ways and Means Committee that will make all decisions on if the budget crunch calls for raising state taxes or legalizing slot machine betting to raise more revenue.
She has two vice chairmanships one on the Senate Transportation Committee that will deal with what infrastructure improvements should be made in the coming years and another on the Health and Human Services Committee that has jurisdiction over changes to Medicaid, the largest single item in the state budget.
"I think we've both got our hands full," Gilmour said.