New military display at school gets high marks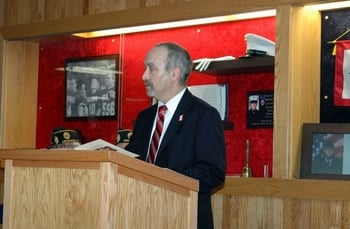 MERRIMACK – A refurbished military display case at Merrimack High School will honor hundreds of veterans and active military with ties to the school community.
In a ceremony last week, project leaders unveiled the newly designed case in the school's main lobby, which now features flags, photographs and profiles of 102 current military members and veterans.
Jim Roy, a longtime resident and math teacher at the school, helped organize the face-lift and design a more inclusive display. To him, it's important that the school community recognize its military links.
"I think that in general, we pretty much take a lot of freedoms for granted," Roy said Tuesday, adding that his grandfather, father and son all have military service. "I have a deep respect for people . . .who show the courage to put themselves in a position where their own lives may be less important than protecting the lives of others and our freedoms."
A display case honoring military personnel with school connections was first constructed in 2002, inspired in part by the terrorist attacks of Sept. 11, Roy said.
It was upgraded a few years ago, commemorating about 75 people.
The newest redesign includes an electronic picture frame where hundreds of photographs and profile information can be uploaded and rotated 24 hours a day, Roy said.
Right now, former service people, a student's father and several staff members' children are among those featured, along with their ranks, connections to the school, military branch and other information.information.
Cpl. Tim Gibson, a 2000 graduate who was killed in a helicopter crash in 2005, is also honored prominently.
Roy said his family members attended the ceremony, which also included the police department's color guard, the playing of taps and the distribution of blue star banners to families with active duty members.
Roy said he hopes more military men and women with school ties will contact him for inclusion in the display.
The following people are eligible: veterans or active military who graduated or attended Merrimack High School; school employees; and loved ones of school employees and students.
Roy can be reached at JamesW.Roy@merrimack.k12. nh.us.