New kindergarten central issue for Central School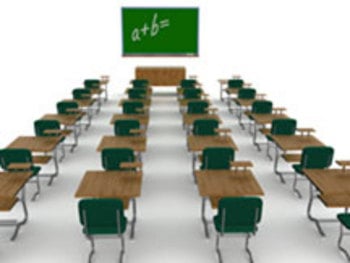 LYNDEBOROUGH – The proposed operating budget for the Central School is up 4.7 percent, or $65,711, this year – an amount the majority of the 30 people attending a public hearing on Wednesday thought was too much.
That figure includes the costs of starting a state-mandated kindergarten program, which will run about $70,000.
The total school spending package is $1,439,631. If the budget is voted down on Election Day, the default budget, including kindergarten costs, is $1,433,000.
Kindergarten costs will either entail paying tuition to send students elsewhere or hiring a teacher and aides for an in-town program.
Several residents said if taxes continue to go up, they will not be able to afford to stay in town and asked if there was any way to reduce the budget.
Also discussed was a $665,000 bond for an addition to the school.
Few of the speakers were sold on the idea of adding three rooms to the eastern end of the Central School – a new kindergarten plus two new classrooms for grades one and three.
The estimated cost of the addition is $990,000. Of that, $325,000 would be funded by a state kindergarten construction grant, leaving $665,000 to be paid by the town over 10 years. A fund set up by the school district some years ago would provide $35,000 for various fees.
Budget Committee Chairman Burton Reynolds said the payments have been fitted into the town's Capital Improvements Plan and "won't cause a spike in taxes."
In fact, he said, payments "will add about 6 cents to the tax rate" the first year.
>>Town Meeting '09<< But the cost is too high for an estimated 12 students, most speakers said, and taxes are already too high. Should the bond fail to pass, kindergarten either will be offered at the United Church with a teacher, aides and curriculum provided by the school district or the students will be tuitioned to another town. If the bond does pass, the addition would not be ready for occupancy until at least mid-winter, according to architect Kyle Barker. The church space would be leased for the beginning of the school year. The total number of kindergarteners is unknown. Nor it is known how many parents would send their children to a half-day program with no childcare available in the area. Board members are estimating between 10 and 15 students. The addition of two new classrooms would eliminate two undersized rooms in the middle of the current building. Those rooms would become a library/computer room and a special education classroom. The plan also calls for re-configuring the driveway and parking areas for better traffic flow. The district deliberative session will be held at 10 a.m. on Saturday, Jan. 31, probably at Citizens' Hall. Voting on the budget figures decided that day will take place Tuesday, March 10.