New Hampshire sees 1.1% export increase in March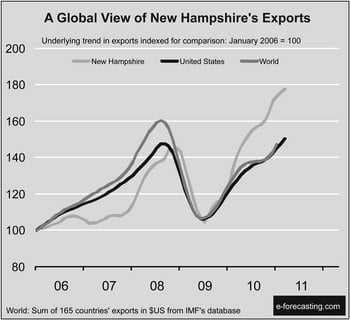 In its latest Economic Outlook released on May 25, the Paris-based Organization for Economic Cooperation and Development said that, although global trade flows "have already risen past their pre-crisis peak" of 2008, a short-term slowdown is expected from "the disruption to global supply chains and Japanese export capacity in the aftermath of the earthquake in Japan."
The earthquake and accompanying tsunami, which hit Japan on March 11, are expected to slow down global trade in the second quarter. Looking forward, OECD anticipates the volume of global trade "to generally remain buoyant through the latter half of 2011."OECD forecasts the volume of global trade to average 8.1 percent in 2011, compared with a growth rate of 12.5 percent in 2010. For next year, OECD projects global trade to continue growing at 8.4 percent.In the latest snapshot of trade numbers, exports of goods made in the Granite State rose by 1.1 percent in March to $405.4 million, from $400.9 million in February – the second-highest level on record.On an annual basis, New Hampshire's exporters posted gains in marketing their goods abroad. In March, foreign outbound shipments from state companies surpassed their level during March 2010 by $88.3 million, or 27.9 percent.Exports of manufactured goods dominated the state's international trade, accounting for 74 percent of all exports. Shipments abroad from New Hampshire's factories in March increased 5.3 percent to $301.3 million from February, and were 22.9 percent higher than in March 2010.Exports of non-manufactured goods – agricultural goods, mining products, and re-exports (imports that are shipped out in essentially the same condition) – went down 9.2 percent in March to $104.1 million.New Hampshire ranked 41st in export growth among the 50 states during the first quarter of this year. Particularly, in comparison with the first quarter of 2010, foreign sales from New Hampshire's companies, seasonally adjusted, increased by an annual rate of 10.5 percent.According to the latest business survey conducted by the Tempe, Ariz.-based Institute of Supply Management, the indicator of new export orders showed signs of growth in April for the 22nd consecutive month, and advanced at a faster pace than in March.In the group of about 300 executives representing the largest U.S. corporations which sell their products overseas, only 28 percent reported higher new export orders in April from March's levels; 68 percent reported no change in the flow of new export orders from the previous month and only 4 percent reported receiving a lower volume of new export orders.Evangelos Simos, chief economist of the consulting and research firm e-forecasting.com, is editor for international affairs for the Journal of Business Forecasting and professor of economics at the University of New Hampshire. He may be reached at eosimos@e-forecasting.com.