New graduates are struggling to find openings at health facilities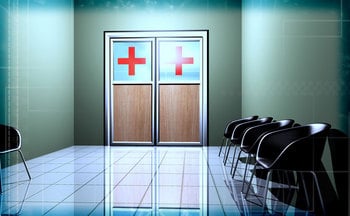 For over a decade, health-care facilities around the country have been all but begging for nurses, and in New Hampshire – a state with an aging population – the need has been seen as even more dire. But the recession has added a new twist: Newly graduated nurses can't find jobs because hospitals and other health-care facilities can't afford the time or the cost to help them finish their training."It's a real Catch-22," said Anita Pavlidis, a registered nurse and head of the nursing department at New Hampshire Technical Institute in Concord. "Our students are really committed to nursing, but the graduating class of 2010 is wondering about employment opportunities."Pavlidis said financial and lifestyle changes brought on by the recession accompanied by slashed reimbursement rates to hospitals and other health-care facilities are directly responsible for the new hiring crunch.The result, she said, is that "not only are hospitals not filling vacant positions, those already working in part-time or per diem positions have floated up to working more hours. The normal attrition has not happened." Thus the new crop of nurses – many of whom had been recruited to nursing programs around the state because of what had seemed to be a near-guarantee of employment after graduation – are caught in the middle.It's not just hospitals that have cut back on hiring nurses, said Pavlidis. "Long-term care and home care have all been affected by the financial situation," she said. "New graduates would go to long-term care (facilities) if there was no room in acute care, but even long-term care is not hiring."Linda Ryan, director of the career development center at Rivier College in Nashua, said another reason for the scarcity of entry-level nursing positions is that many nurses today are staying longer in their careers by choice, and others may be "covering for spouses who may have been laid off."Attrition is certainly playing a role in the nurse-hiring picture.Beth Hale Campoli, vice president of patient care services and chief nursing executive at Manchester's Elliot Hospital, had budgeted for and hired 40 newly graduated nurses in 2008. Then the economy crashed."When the economy fell a year ago, we didn't see the level of retirement we typically see – a spouse might have lost their job or lost benefits," said Hale Campoli. "Those are the positions that normally open up."As a result, for the last two years, she has budgeted for half as many new nurses for the 313-bed hospital, adding that she'll probably do the same for fiscal year 2011.She said she "over-budgeted a little" to bring new grads into Elliot's Transitions Program, a 12-week intensive preceptorship in which new nurses are mentored by highly experienced ones."Normally, we bring them all in at once so they can build relationships and support, but there's nowhere to put them. I'll probably have to stagger them in," said Hale Campoli.At Littleton Regional Hospital, a 25-bed critical access hospital, Georgene Novak, director of human resources, said the hospital has never really had a nursing shortage, but its ability to bring in new nurses has ebbed and flowed."We have a wide variety of patient acuity," she said. "Sometimes we didn't have the ability to precept new nurses," who, she said, "need close oversight for as long as 12 months."When the beds are filled with patients, "the nurses are running," and it is just not feasible to take them away from care duties.Novak said Littleton typically first hires those who are already employed by the hospital in other positions and have completed their nursing degrees, but there also have been instances when the hospital hasn't been able to bring those candidates on board because of inability to adequately supervise them.
Unexpected 'struggle'As recently as a few months ago, job openings at any New Hampshire hospital would include dozens of vacant nursing positions. Today, a similar review would reveal a handful, if that many.Chelsea Goldthwaite, 22, and Allison Herrick, 20, are baccalaureate nursing students and roommates at the University of New Hampshire in Durham. Both say the challenge of finding a job has taken them a bit by surprise."You tell people you're in nursing and they said, 'Well, at least you'll find a job when you graduate,' but that's no longer true. It seems to be a little less of a challenge in New Hampshire than other places, but it's still difficult," said Herrick, a junior.Goldthwaite, a senior, said she has begun applying for jobs ahead of her graduation in May, and has found the experience disappointing."The human resources people have been very discouraging. They're saying they're not taking new grads or there are no nursing jobs available at all," said Goldthwaite. "No one's encouraging you at all.""It's a struggle no one expects to encounter," said Herrick. "They all tell you there's a million things you can do with your nursing degree, but you have to find a job first."Both Goldthwaite and Herrick are from Concord. While Goldthwaite — a self-professed "homebody" — said she's hoping to stay closer to central New Hampshire for a job, Herrick indicated she'd be willing to relocate to find the position she wants.According to Pavlidis, students in community college nursing programs, such as NHTI's, can sometimes be in an even more difficult position because, on average, they are slightly older and have more ties to the area, making relocation less of an option."Our average age [of students] is 32. They have homes here, family here. Younger students can move more easily [to find a job]," she said.Angela Russo of Hudson, a first-year nursing student in Nashua Community College's two-year program, considers herself lucky because she knows people who work in the human resources department at a hospital and others who work at a home health agency.It may be easier, she said, to find a job if "you know someone who can help you get your foot in the door."
Still, Russo, 22, is looking for a job in the meantime to help make ends meet while she raises her young son.
"I've been looking for an LPN (licensed practical nurse) job, but a lot of places are not hiring LPNs now," she said. "Jobs are tough to find."Openings will comeFor those students who can afford it, Pavlidis said NHTI is counseling them to continue their studies, going for either a bachelor's degree or go on to graduate school."Some say they would love to, but they don't have the money," Pavlidis said. For those who can't follow the further education route, "we're telling them to consider exploring weekends, evenings and nights, which are typically less popular among more experienced nurses," she said.She also recommended volunteering. Although there is no pay, the contacts and continued experience often leads to a paid position.Littleton Regional's Novak suggested new nurses consider physician offices, and Rivier's Ryan recommends such health-care settings as outpatient treatment or cancer centers, rehabilitation centers or even psychiatric facilities."Patients aren't staying in acute care for long anymore. They are being set up with home health or rehab," she said.While a few graduates may consider working as a licensed nurse's assistant while searching for an RN job, that plan does have some pitfalls."You can be licensed as an LNA and RN at the same time in New Hampshire," said Pavlidis, "but if you're hired as an LNA, you have to make sure you're not practicing at that higher level outside of the scope of the LNA."
Many, however, are already working as a nurse's assistant, and want the greater opportunities – and paycheck – that being a registered nurse brings.Goldthwaite said she still hopes to work in a hospital, preferably in that prized position on the medical/surgical floor."I'm going to see what happens with the two hospitals I've applied at," she said. "I would only consider working at a nursing home as a last resort."While there is a contraction of the nursing market at the moment, Elliot's Hale Campoli said the future might actually be more ominous."There is a shortage and it will hit hard in five to 10 years from now," she said. "Since the baby boomers aren't slowly retiring now, they may all retire at once. How will we transition our new nurses without the more experienced ones? I need my wisdom workers to mentor new nurses."Cindy Kibbe can be reached at ckibbe@nhbr.com.