New courses aimed at quick job training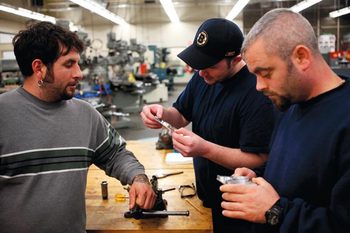 Rolland Landry wants a better job. Yet, many jobs require a college degree – something 24-year-old Landry doesn't have.
Landry, of Nashua, checks the Nashua Community College course catalog every semester, looking for something that fits his schedule and budget. A full-fledged associate degree hasn't been in the cards.
"I have my own family to support," he said. "I can't afford thousands of dollars for college. I can't do classes Monday through Friday."
Then, he received a flier that read, "Does a career as a machine operator sound good to you?" It did.
Now Landry is one of five students currently enrolled in NCC's machine operators certificate program, created to help people obtain skills valuable in the job search, without taking years of traditional schooling.
Mark Dodge and Doug Howe, professors at the college, started the non-credit program after talking with people at companies like Spartan Technology and Omni Components, and the New Hampshire Machining Association, as well as other industry insiders.
"Essentially what we're finding is companies are saying, 'We don't have a lot of qualified help,' " Howe said. "So we wanted to assist the local community, and people, by offering a course to make individuals familiar with basic machining and basic math."
"Enough to push the button," he said.
The button is located on a $70,000 piece of machinery called a HAAS VF1 Vertical Machining Center that sits in the NCC machining room and cuts pieces of metal according to pre-programmed plans. Despite the rather dismal job market, there is a real need for computer numerical control mill and lathe operators, Dodge said. The class teaches the five nontraditional students, whose ages range from 25 to 35, all the skills needed to oversee the cutting process and know what to do if something goes wrong.
The program spreads 24 hours of class time over an eight-week span and covers everything from basic math to micrometer reading. The group meets every Thursday from 5:30-8 p.m., which is much more accommodating to people with a full-time job than daytime college classes.
The college even implemented a three-step payment plan for the course's $425 price tag, making it even more appealing, Landry said.
Jonathan Caterino, 25, of West Townsend, Mass., was working at a machine shop for six months before the shop closed. Now, he's taking the operators class with the idea of coupling his experience with the certificate to get another job in the industry. Like Landry, the traditional college route didn't suit him, either.
"I have no time to take something like a social studies class or sit through an elective," he said. "I would elect not to waste my time."
He said he became interested in the program because the need for skilled machinists kept popping up during his job hunt. He also became interested once he learned the program was standalone job training and not just another college course that was part of a degree program.
Taking the course doesn't make you a shoe-in for a machining career, however. For one, Spartan Technologies seems to be tightening its belt, said Scott Breton, who works at the Hudson-based company.
"As a rule, they're very sought after, but right now we're not hiring any," he said.
Because NCC is a community college, Regina Kelleher, associate vice president of academic affairs, said the college is working with New Hampshire Employment Security to construct programs to best suit the needs of the community. The program isn't a one-shot deal, though, nor a silver-bullet to curb the hardships of today's job hunt.
"I think it's a larger piece," she said. "The school is developing a series of noncertificate training programs directed at dislocated workers who need new occupational skills."
In the fall, along with machine operators program, NCC will offer courses in basic computer proficiency, bookkeeping and Web design.
Back in the classroom, all five of the students said they would recommend the class to their friends who wanted to upgrade their job. Caterino went as far as to say he sees great things for programs like this one, because they can coincide with full-time job better than traditional college courses.
"I think, in a way, it could be the wave of the future," he said.