New chief's advice simple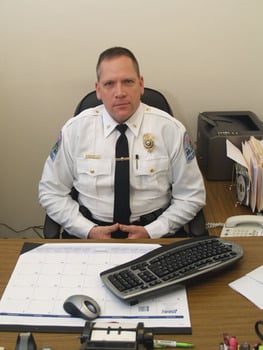 MONT VERNON – Police officers are expected to follow a comprehensive list of standard operating procedures. However, new Police Chief Kyle Aspinwall boiled it down into a few simple pieces of advice for the officers under his command.
Aspinwall was sworn in as chief during a ceremony Dec. 23 at Town Hall. The 41-year-old Amherst resident came to Mont Vernon after working for the state police. He fills a vacancy that opened up last summer when Alexander Brougham resigned.
In an interview last week, Aspinwall said he gave his six officers the following advice: One, do the right thing; two, there's never a right way to do the wrong thing; and three, follow the golden rule, that is treat people the way you'd like to be treated.
He also has a moral test that has served him well in his 19 years in law enforcement.
"Would my mother, father, wife be happy, proud or upset based upon what I did?" said Aspinwall. "If you can't go back and look those people in the eye and explain what you did and not have them understand it, you've got a problem."
In addition to giving advice, Aspinwall is reviewing the so-called department "SOPs" to make sure they are up to snuff.
However, Aspinwall pointed out that being a police chief doesn't mean reinventing the wheel and there is almost always a precedent for every situation.
When asked about his first-year plans, Apsinwall listed a number of initiatives that he'd like to accomplish in the next six to nine months.
Those plans include creating a voluntary program to help the elderly similar to Good Morning Amherst in which seniors and other people who are housebound would call the police in the morning when they get up to confirm they are OK. If they don't call by a certain time, an officer would arrive at their house to check on them.
Another priority is scheduling. Aspinwall wants to ensure there are officers on patrol during the times people leave for work and school and when they return.
Previous to his coming on board, community members have told the department that speeding is a problem in town. Aspinwall said he will be responding to the residents' concerns.
He'd also like to update the department's Web site.
Long term, Aspinwall would like to replace the cruisers with SUVs. He said with Mont Vernon's hilly terrain, four-wheel drive is a must.
And Aspinwall knows cars. In his previous job he worked out of Troop G in Concord in the Motor Carrier Unit, where he was responsible for enforcing commercial vehicle regulations.
During the ice storm, Aspinwall came to Mont Vernon and worked a 14-hour day, lending support and even handling a few calls for vehicles off the road.
Prior to joining the state police, Aspinwall worked as a police officer in Amherst and before that as a police officer/firefighter/EMT with the Waterville Valley Department of Safety. He has a political science degree from the University of New Hampshire.
It was between his junior and senior years at UNH that Aspinwall decided to become a police officer. He said at the time no other profession appealed to him more.
During breaks, he'd work odd jobs like dishwasher, and even picked up trash as a sanitation worker. Those jobs, he said, gave him respect for people who get up every day and get the job done.
As with most new officers, when Aspinwall first put on the uniform at 23 he expected there to be a lot more action than there actually was. However, the terrible stuff was worse than he imagined. It takes an officer 18 to 36 months to get a good grip on what the job is really like, he said.
There are rewarding parts to the job, too, he said. For example, as an Amherst police officer, he once arrested a man wanted by the FBI for robbing a bank in Indiana. After the arrest, the man pleaded guilty in court.
When asked the "Peggy Silva" question – what don't you know and how will you learn it? – Aspinwall replied that there were a number of law enforcement agencies that he can draw on for guidance, such as the Hillsborough County Chiefs of Police Association, as well as his peers in the area.
Silva, an Amherst educator, e-mailed the question to NBC and anchor Tom Brokaw used it during a presidential debate this fall.
Apinwall said he's going to enjoy working in rural Mont Vernon, because it reminds him of Bedford, where he grew up. At that time, Bedford was farmland and forests and not built up as it is today.
"I could walk outside my door and get lost in the woods," he said.
Aspinwall is married. He and his wife, Christine, have 12-year-old son and 6-year-old daughter.
He said he enjoys coaching youth soccer, but jokes that it's actually more stressful than facing down a bank robber.
He is also an avid hiker, he's climbed all the 4,000-foot mountains in the state at least once.
A number of his former co-workers attended the oath ceremony, including his ex-boss, former Amherst Police Chief Gary MacGuire, who is now Amherst's town administrator.
MacGuire said he wasn't surprised that Aspinwall is now a chief. "He was a bright young cop that I knew would do well," he said.