Networking tips from the pros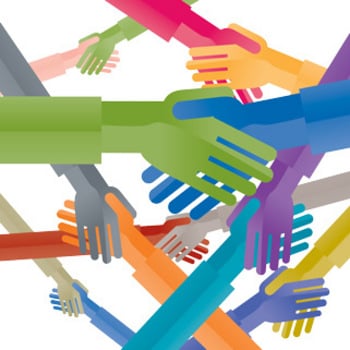 You're at a chamber mixer and you want to strike up a conversation with the CEO of a company you see as a possible business partner with — but she's deeply involved in a discussion with two other people. What do you do?
While this is one of the more difficult situations encountered, networking isn't — and shouldn't be — hard to do.
"The goal is more about getting to know people and their businesses and to get your name out there," said Debra LeClair, a psychologist and certified life coach who's founder of Full Spectrum Wellness in Manchester. "Don't go in with the goal of making a sale, for example. It should be mutually beneficial."
According to Deb Titus, managing director of Dale Carnegie-New Hampshire, fostering the opportunity to collaborate is another networking goal.
"You exchange ideas or points of common interest to the both of you," she said. And, she said, networking can improve your own social capital, your influence in the community on a genuine level.
"Your goal is to learn about people, about their industry, their organization, and the individual as well as their peers," Titus said.
While one of the biggest impediments to networking is fear of talking to strangers, in a networking situation it's actually easier than you might think.
"Remember, everyone is there to network," said LeClair.
She recommended just simply holding out your hand and introducing yourself. After the person gives his or her name, ask the common and perfectly acceptable question of what he or she does or what business he or she works for.
"I wouldn't call it 'fear' — it's more a range of confidence," said Titus. "You can have a range of being paralyzed when meeting new people all the way to being ferocious or arrogant."
If you start to feel squeamish before a networking event or conference, Titus said, to remind yourself of who you are, what you know and what you have to offer.
"You really are connected," she said.
LeClair also suggested reminding yourself before the event if you start to get nervous that "you're all there to meet people."
And the emphasis is on people. Don't spend the whole evening with just one person.
Introductions
So you've exchanged greetings and names, then what?
Both Titus and LeClair suggested moving on to more open-ended questions.
"Be creative," said Titus. "If you're at a conference, ask the person what he or she is hoping to get out of it. When talking about your careers, ask is it their passion. What hobbies or other interests do they have?"
And what about breaking into that conversation with the CEO you want to meet?
"You can stand on the periphery and wait to be invited in. Look for a lull in the conversation and introduce yourself," said LeClair. "This happens more in networking situations" than in the course of general interactions, she said.
You also might pose a question to the group during a lull and meet that CEO's acquaintances at the same time.
Titus said a key to be invited into this group is to listen and consider adding to the conversation in progress. Perhaps try a line like, "Excuse me, I couldn't help but hearing you say something about 'Topic X.'
"Or just step up and ask, 'Do you mind if I join you?''' said Titus.
Sometimes, however, you just might have to wait your turn if the conversation is particularly focused. Use the time to look for another loner or a smaller group that seems to be less engaged. That CEO is bound to hit the refreshment table at some point.
If you still don't feel ready to go to that chamber mixer, other networking professionals suggest trying something a little less formal, like a book club, hobby group or community organization that you are interested in. You might have a much easier time talking with others about pursuits that interest you.
You also might consider taking a leadership seminar or class in which everyone is learning along with you.
Moving on
If you find yourself in the opposite situation with a hanger-on, there are ways to politely leave that conversation and move on. The point is to avoid an abrupt ending.
LeClair suggested saying something polite but final at the next opportunity in the conversation — such as, "It was nice to meet you." — ask for their card and wish them a great evening.
Titus added that you might want to part with a genuine comment about a point they made that you particularly admire.
"It's about maintaining respect and dignity," she said.
Card game
Business cards have a whole etiquette to themselves.
Titus said that before the get and the give, "have a meaningful conversation first."
She said you should deliver the card face up in the direction your acquaintance can read it (upside down to you).
"One oversight is to attend an event without business cards," said LeClair. While it's bound to happen, she said you shouldn't judge others negatively if they've run out or forgotten them — and don't beat yourself up about it either.
When you do exchange cards, she said to be sure and look at it. It shows that you have a sincere interest in the person.
"Looking at the card might also trigger another point of conversation, such as maybe the person has a last name of someone you know or shares your maiden name," she said.
Naming right
Business cards also help to solidify a person's name in your memory. Maybe you didn't catch it the first time or didn't know the last name.
It's also not a sin if you do forget someone's name.
"It's OK to say you don't remember," said LeClair. "But phrase the question asking the person to remind you of his or her name, not that you forgot it." While the difference may be in the semantics, it maintains the person's value and is gently self-effacing.
But what if you blow it?
"It's probably not as bad as you think," said LeClair. If a joke fell flat or you said something unintentional, quickly apologize, then forget it. "It's OK to make mistakes."
Cindy Kibbe can be reached at ckibbe@nhbr.com.