Networking group turns into business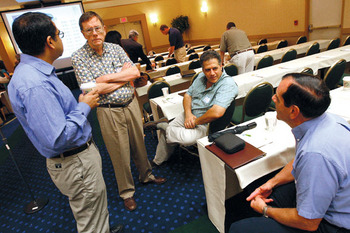 NASHUA – When they met with five former colleagues at Joey's Diner on Amherst Street one February morning, the founders of Network for Work were just three more laid-off Fidelity Investment employees looking for jobs.
Barely half a year later, that trio is in an entirely new position: the head of a popular grassroots networking group that already boasts more than 700 online members.
Last month, Paul Philbrick, Tammy Hildreth and Jim Starrett officially abandoned their own job searches to better focus on helping hundreds of other people in theirs. Network for Work has played a part in landing new jobs for about 50 of its members and has 100-130 people attend its weekly networking and career skills workshops.
"This is our job now," Hildreth said. "We're helping others to find work and hoping at some point we can pay ourselves for that service."
The group is now an LLC and charges for its services by offering two levels of membership for different levels of access to its online services and database and in-person events, Hildreth said.
The group's chief activity is its Thursday morning meetings dedicated to networking. People in search of work mingle, exchange stories and work on their "elevator speeches" – pitches designed to sell yourself as a potential hire in the time it takes to ride an elevator.
Philbrick initiated the February diner meeting to informally exchange ideas and extend support in what would hopefully be brief job searches.
The group decided to continue meeting and quickly moved its meetings to the Nashua Public Library.
When the meetings grew too big for the library, Greater Nashua Chamber of Commerce President and CEO Chris Williams helped secure free meeting space at hotel conference rooms around the city.
Now most of the meetings begin with a presentation by an expert in areas like financial planning and interviewing, job search and leadership skills. The second part of the meeting, and the entirety of one meeting a month, is dedicated to talking and exchanging news and tips with other members.
The group thrives, Philbrick said, by embracing a "pay it forward" mentality. Despite the fact that many members have similar backgrounds and are often gunning for the same job, they have recognized that letting fellow members know about opportunities may increase competition in the short term but will pay dividends down the road, he said.
It is the kind of environment the group at the Joey's Diner meeting agreed they wanted from the start.
"It's really community focused," Philbrick said. "We wanted it positive, and we wanted to help each other find work."
So far, the founders said, it is working well, and at least some members agree.
Kristyn Silk, who worked at Fidelity for a decade before being laid off in November, attended Network for Work meetings until landing a job at Great West Retirement Services in June.
She said that although she did not find her new position through a Network for Work connection, networking groups like it can be vital for the unemployed.
"I love what they're doing," Silk said. "They are providing a service to the community that they just picked up themselves, and it's something that's really helping the community."
Marie Schulmann, a 52-year-old former Hewlett Packard employee, has been out of work for about 18 months.
After spending the first year exploring the possibility of buying a small tech firm, she has spent the last six months looking for a new job – a tall task in a slumbering economy and a contracting industry.
She said after many years at HP, her network of contracts was largely based on other HP employees.
Now, she hopes the contacts she is building through Network for Work provides the job lead that pays off.
"I really needed to broaden my horizons around who's out there, how can I meet some other people, explain my value," she said. "Network for Work has really done that for me. The quality of the program they put together is just phenomenal."
The group is constantly on the lookout for new partnerships and have already established several, such as striking deals with local businesses willing to offer members discounts on everything from business suits and books to dry cleaning and resume paper.
"You've got so much to worry about when you're looking for a job," Hildreth said.
"We get it. We know what it's like to be unemployed," Philbrick said.
The three founders are now hoping to launch a sort of call-in networking show on WSMN sometime this month. They are trying to nail down sponsorship to pay for the airtime.