Nashua's Winter Holiday Stroll celebrates start of season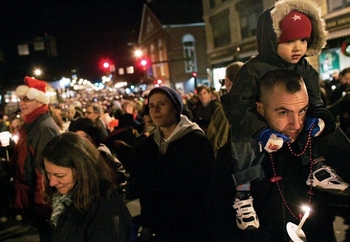 NASHUA – For two reasons, Christine Perry was hard to miss.
First: She was hula-hooping up a storm in the middle of Main Street on Saturday night.
Second: She was doing so in short sleeves during the teeth-chattering chill of the 15th annual Winter Holiday Stroll.
"I was not cold at all in a T-shirt," said Perry, during a quick break at her post outside Surf Restaurant on Main Street. "I like creating a spectacle for people to enjoy."
Perry was among many street performers at the stroll, which drew thousands of people to Main Street for a candlelight walk, tree lighting ceremony, outdoor entertainment and food and plenty of deals from downtown merchants.
"I'm just so happy to see this because we're all about bringing a vibrant downtown," said Sue Butler, executive director of Great American Downtown, the event organizer. "We work very hard for merchants on events that will help ring their cash register."According to seasoned volunteers and merchant feedback, crowds at Saturday's stroll are estimated to have exceeded last year's total of 30,000, Butler said.
On what is one of downtown's busiest retail nights of the year, 50 performers entertained at 20 venues, and Great American Downtown likely met its fundraising goal of $10,000, Butler said.
Through the co-mingling scents of fried dough, Italian sausage and even deep-fried Oreos, strollers walked from City Hall to the bottom of Library Hill, singing "Let It Snow" "and "Santa Claus is Comin' To Town" behind an old-fashioned fire truck with Kris Kringle at the helm.
"Take a look behind you," said Mayor Donnalee Lozeau to the crowd, taking in the hundreds of candles and twinkling lights illuminating Main Street. "What a great night for this."
Todd Lyon, a Nashua resident who was attending his third stroll, agreed.
"This is pretty amazing," Lyon said, grasping the hand of his 6-year-old daughter, Anna. "This has been the most populated. It's a sea of people."
Crowds gathered at perennially popular stops, such as the ice sculpting display outside City Hall.
The Manchester-based Icebreakers, a professional ice carving outfit, and a host of chefs used chain saws to shape 38 300-pound ice blocks into characters from "the land of misfit toys," from the 1964 release of "Rudolph the Red-Nosed Reindeer."
Strollers marveled at the 12-foot "Charlie-in-the-box," the abominable snowman and a Christmas tree – which had to be mended after the top ice block broke.
"You know, it's the land of misfit toys," said Robin Feustel of the Professional Chefs of New Hampshire. "It can be a misfit tree, too."
Perry, the hula-hooper from Concord, was also drawing big crowds.
To the music of a live band across the street, Perry smoothly swiveled a hoop around her neck, arms and torso.
After a few minutes, she laid out some extra hoops for the growing audience.
With some hesitation, a few young girls joined in, including 8-year-old Alissa Rampino, of Hudson.
"I think she's really, really good," Rampino said of Perry. "It's cool because she can spin around while she's doing it."
Within moments, all the hoops were being used – some by older men and women who seemed to be rediscovering their inner child – and what started as a small sidewalk operation quickly ballooned across two traffic lanes.
Perry, a lover and frequent attendee of musical concerts and festivals, picked up hooping through bands that pass out hula hoops to audience members.
About three years ago, she picked it up seriously, watching online video clips to pick up moves and mimic tricks such as the "halo," where the hoop travels up a single arm extended above her head.
Perry, a 33-year-old waitress, and a few friends began hooping in parks after work just for fun. She soon started Hoopdees, a professional hula-hooping club whose members perform at events and birthday parties.
But more than making a little money here and there, Perry said, it's about fun.
"You can't not smile when you're doing it," she said. "A lot of people these days aren't having that much fun . . . These kids here are not playing video games or watching TV. And I like seeing older people get to be kids again."