Nashua's search for schools chief is officially on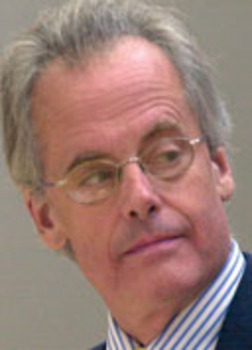 The clock is now ticking for the Nashua Board of Education to find a new superintendent.
Christopher Hottel, superintendent of Nashua schools, came to terms on a contract with the North Andover, Mass., school committee Thursday, officially accepting the town's superintendent job.
On Dec. 22, the town's school committee voted 4-1 to offer Hottel the job and has been negotiating a contract with him since.
Now that Hottel's departure is official, it is up to the Nashua Board of Education to find a replacement. The person chosen will be the Nashua School District's third superintendent in four years.
It's not clear when the Nashua Board of Education will begin discussing how to find a replacement. Tom Vaughan, president of the school board, did not return a phone call Thursday.
There is a regularly scheduled board meeting Monday night at Nashua High School North.
Hottel will continue working in Nashua until June 30, and will then take over in North Andover in July, a district roughly a third the size of the Nashua school system.
Hottel was at the school committee meeting in North Andover on Thursday night to formally agree on the terms of the contract. He met with committee members in executive session before signing the contract at the start of the meeting.
Hottel will make $165,000 as superintendent in North Andover; he makes $150,000 in Nashua.
The three-year contract was approved unanimously by the five-member board.
Hottel also has the potential to earn performance bonuses.
Hottel, 62, has said that he wanted to finish his career as superintendent of a small Massachusetts school system.
Hottel worked in Haverhill, Mass., before coming to Nashua in 2005 and said he needed to finish his career in Massachusetts to be vested in the state's retirement system.
Hottel will be North Andover's first permanent superintendent in three years and will replace interim superintendent James Marini. He will continue to reside in Gilmanton and commute to North Andover.
Hottel beat out three other finalists for the job, including a popular in-house candidate: assistant superintendent Kevin Hutchinson.
At the Dec. 22 meeting, several members of the public spoke in favor of Hutchinson, and Barbara Whidden, chairman of the North Andover school committee, also voted for Hutchinson. She was the only member not to vote for Hottel.
Although Hottel's time in Nashua was relatively brief, he has received praise for his leadership from district staff and city officials, including some who had been critical of previous superintendents.
Alderman-at-Large Fred Teeboom, one of the most vocal critics of the school system, said Thursday that Hottel's departure would be a significant loss to the city.
Teeboom called Hottel the best department manager in Nashua and praised him for instituting a program-based budgeting system, something Teeboom said all departments should use.
"He instituted that, and he did it beautifully," he said.
Teeboom said Hottel has proven his ability to bring people together on difficult issues to come up with a solution. He also praised Hottel for increased transparency and responsiveness to suggestions for change.
Hottel was hired in the summer of 2005 as an assistant superintendent, replacing Richard LaSalle. Later that summer, Julia Earl was brought in as the district's new superintendent.
In June 2006, the school board placed Earl on paid administrative leave after questions were raised about her use of public funds for travel.
The board then voted to make Hottel the district's acting superintendent.
Hottel took over at point when there were threats of teacher layoffs, with more than 100 pink slips going out to district staff earlier in the spring.
Working with district administrators and the school board, he was able to find enough money in the budget to avoid layoffs.
After the school board bought Earl out of her contract for $250,000, they hired Hottel as the permanent superintendent. The school board gave him a salary of $150,000, making him, at the time, the highest paid superintendent in the state.
Since then, Hottel has had to steer the district through contentious contract negotiations with teachers, who came within hours of a threatened strike.
Leading up to the strike, Hottel made clear to teachers that they would risk their jobs if they took part in an illegal job action. The strike was averted with an eleventh-hour contract agreement.
Althea Sheaff, executive director of curriculum and instruction, is one of the few administrators left to have worked under Joe Giuliano, Earl and Hottel.
Sheaff said has been impressed with the leadership Hottel has provided the district, coming in under less than ideal circumstances.
"He took over at a time when the need for strong leadership was very important," she said.
She said he has had success building relationships with the various constituencies in the city.
Since taking over, he has also stressed the importance of utilizing data to improve instruction, she said.