Nashua's iCAD aims big by focusing small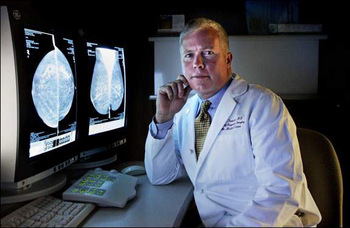 When Ken Ferry gave up his executive position at a billion-dollar global health-care company for the top spot at a struggling Nashua company, this was his charge: turn $20 million into $200 million.
Just a few years earlier, Nashua's iCAD had completely reinvented itself from a graphic arts company to one with a sole focus on products that help radiologists pinpoint breast cancer in its early stages, but sales were lagging.
By the time Ferry came on board as president and chief executive officer in May 2006, the company was down to $16 million a year in revenues. That may sound like a lot of money, but not when it costs more than that $16 million to run the company each year.
The company was operating at a loss, and the board of directors wanted the company to go big – as in $200 million a year in revenues big.
"Very frankly, this company was not in a good position," Ferry said.
Ferry's hiring was part of a housecleaning effort that brought a new team of executives on board and launched an upswing.
Little more than a year later, the company still has a long way to go to hit $200 million, but revenues have increased 50 percent and are on track to hit $26 million by the end of 2007. Chief Financial Officer Darlene Deptula-Hicks says the company is close to turning a profit.
"The company had been losing money for years," Deptula-Hicks said. "I think we've stopped the bleeding, if you will."
The company's financial troubles by 2005 had a lot to do with the changing market – and the company's slow response. Just as digital cameras were replacing film, digital mammograms gained wide recognition as the superior technology.
"Women started calling their centers and saying, 'Have you gone digital yet? If not, I'm not getting a mammogram here,'" Ferry said.
But iCAD was focusing on its analog product, which scans film slides and then pinpoints potential areas of concern. The company also was marketing itself as a "value" leader, not the company with the best product, Deptula-Hicks said.
Ferry, 53, said he took the job after getting a call from a search firm because he thought it was time to run his own company. He feared he would be viewed as too old if he waited much longer, so he left Phillips Medical Systems.
Two weeks later, he brought over Phillips co-worker Stacey Stevens to serve as senior vice president of marketing and strategy, who was charged with much-needed re-branding. Deptula-Hicks joined in September 2006.
The company moved to a larger office on Spit Brook Road, brought in new talent and promoted itself as the industry leader in computer aided detection. It shifted emphasis to digital sales – a market with huge potential.
Second look
Although digital mammography is widely viewed as a superior method to film, especially in pre-menopausal women, only 25 percent of radiology sites in the United States have gone digital, Ferry said.
The company is currently working to develop software that detects other types of cancer in early stages. They're working on a colon cancer detection product now, then plan to move into products that seek out tiny lung and prostate tumors.
"Finding the easy ones is not the goal. Radiologists see those," Ferry said.
Two radiologists who use iCAD digital products say the technology acts as a second reader, marking potential areas of concern and eliminating the need for a second radiologist to review each mammogram.
"It helps you just to key on areas that are more suspicious," Dr. John Niceforo, medical director of the Breast Care Center at Holy Family Hospital in Methuen, Mass., and head of radiology for Salem Radiology Health, said.
"It brings your attention to areas you may want to look at more carefully."
Radiologists were afraid to use the second-look technology when it first came out for fear they could be sued if the computer picked up on something the doctor had failed to in a previous mammogram, Niceforo said.
But that argument has not been allowed in court, Niceforo said. In fact, the technology has been used to defend doctors when neither the doctor nor the computer spotted the cancer, he said.
Dr. David Fontaine, section chief of diagnostic imaging at Catholic Medical Center in Manchester and physician director of the hospital's Breast Care Center, said when the software was new, it picked up on too many things.
Now, engineers have refined the technology so the hospital feels one radiologist reading with iCAD technology is far better than having two radiologists look at a mammogram under the microscope.
The hospital has worked with iCAD for four years and went digital two years ago. Women call every day to ask if the hospital has digital equipment, he said.
"The digital mammography is so much better, and the ladies know it," Fontaine said. "If you don't have digital mammography in today's market, you're losing business."
But beyond the business aspect, the goal of all this technology is really just to save lives through early detection, Fontaine said.
And that makes iCAD employees feel pretty good about their jobs.
"We believe in what we're doing. We think this is an awfully important technology," Ferry said. – ASHLEY SMITH/The Telegraph