Nashua woman votes despite being in labor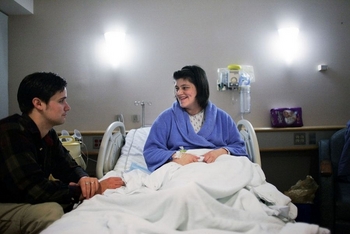 NASHUA – Shaunna Kirkpatrick probably had the best excuse in the world not to vote on Election Day, but she did anyway.
Kirkpatrick, 26, gave birth to a girl Tuesday afternoon, just hours after she cast the first ballot at Ledge Street School while in the early stages of labor.
"I'm very interested in politics, and I understand how important this election is," Kirkpatrick said, resting comfortably in her bed at Southern New Hampshire Medical Center on Tuesday night. "I wanted to be a part of it."
In fact, said James Kirkpatrick, her 30-year-old husband, his wife had been looking forward to voting for a long time.
"Shaunna was just all excited," he said of her mood Monday. "She said, 'I'm going to vote tomorrow!' "
Shaunna Kirkpatrick said she knew there was a chance she would deliver early, as her 20-month-old son, Peter, was born six weeks early.
"I wanted to have the baby after the election so I could vote," she said.
But when Shaunna Kirkpatrick awoke at 3 a.m. Tuesday, it was not out of civic excitement; her water broke. She called her doctor, who advised her to hang tight until 7 a.m. since she wasn't having serious contractions.
Their son woke the couple at 5 a.m. They packed their bags and headed to the polls, getting to Ledge Street School at "six on the dot," James Kirkpatrick said, where "a huge line" had already formed.
By then, Shaunna Kirkpatrick was feeling some cramps.
The couple took their spot in line, and Shaunna Kirkpatrick started chatting with a friend who was waiting. She told her friend she was having her baby that day. Kirkpatrick was asked if she was being induced.
"I told her, 'No, I'm in labor,' " Kirkpatrick said. "People around me were like, 'That's dedication.' "
Word of Kirkpatrick's condition reached poll workers, who ushered the couple to the front of the line.
"They were very kind," James Kirkpatrick said. "She was the very first person to walk through the door."
Eight hours later, Shaunna Kirkpatrick delivered a 5-pound, 14-ounce daughter with lots of black hair.
"Samantha," "Maura" and "Adrienne" were on the McCain-supporting couple's short list of names, but they went with the natural choice: "Reagan."
"It was on the list, but I thought it'd be perfect for an Election Day baby," Shaunna Kirkpatrick said.
"We have a sense of humor, too," her husband added.
When Reagan is older, her parents plan to tell her the story of her birthday, and teach her "how important being involved in what happens is and being involved in your community and your government," Shaunna Kirkpatrick said. "We'll tell her about the importance of voting and making a difference."