Nashua students watch historic moment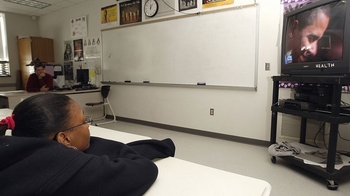 NASHUA – Louis Muccioli isn't old enough to have lived when segregation was rampant in this country.
Muccioli, a junior at Nashua High School South, said his mother often tells him stories about what it was like to live through that period in America's history.
Donning a "Yes We Can" T-shirt with an image of Barack Obama on it, Muccioli, who is black, said he was anxious for the afternoon's inauguration ceremony because of what it meant in terms of progress.
"It represents change," he said. "It really shows how much further we've come."
Both of the high schools in Nashua took time Tuesday to allow all students to watch the day's historic ceremony. Classes and lunches were shortened, giving students an hour and a half to watch the swearing-in ceremony.
Muccioli had the opportunity to meet Obama during his presidential campaign during a stop at a convenience store in Nashua.
He got to shake Obama's hand, a moment Muccioli said he would never forget.
Rosemary Mwaura, a junior, said was she was filled a sense of great pride. Her family is of Kenyan decent, like Obama's, she said excitedly. They were going to Boston later that night for an inauguration party.
"My mom woke up today and said, 'Can you believe it?' and I just started crying," she said.
Susan Rourke, head of the English department at South, said students have been preparing for the inauguration by reading articles and discussing it in their classes.
She said it seemed appropriate that all students get to watch the historic ceremony at the school. Her hope was that in 20 years, students would remember where they were on this day.
"We just thought that since the eyes of the world were going to be on us, we might as well be watching, too," she said. "It's marking a time in history."
Students filled the school's auditorium and small gymnasium as the ceremonies were getting underway. Some students stayed in their classrooms to watch on a TV or projector.
As Obama gave his inauguration speech, his voice echoed through the halls of the school.
In classrooms, students were watching silently, transfixed as Obama spoke about his hopes for the country and the responsibility on all citizens to rise up and take action.
In the auditorium, students applauded throughout the ceremony and let out loud cheers and whistles after Obama's inauguration speech was over. Without prompting, students rose in the auditorium for the playing of the National Anthem.
As he walked out of the auditorium, junior Nelson Basora noted what an unusual sight it was to see so many students truly engaged in a political event.
"His words, his message of change. It inspired everyone," said Basora, who had an Obama button on his chest.
Like all of the presidential candidates, Obama visited South during the primary campaign for his editorial board meeting with The Telegraph.
On his way out of the school after his interview, Obama stopped in a freshman seminar class to speak to a group of students.
Jocette Rioux and Jonathan Thyne were both in that class.
Sophomores now, both said Tuesday it was a bit surreal to see him now being sworn in as president.
"I was pretty excited that I got to actually meet a president," Thyne said. "I have his autograph."
Rioux described Obama's speech as "phenomenal."
Thyne said he hoped Obama could come through on all of the promises of his campaign.
"It's a lot to accomplish in just four years," he said. "I hope there is another four years after that."
Several students said they were genuinely concerned for Obama's safety, fearing that something terrible might happen during the ceremony.
But mostly, students expressed optimism for the future.
"I think everything is gonna be better now," said junior Jettie Borresen.
Ryan Figueroa, junior, said he was hopeful that Obama could help get the country out of the recession.
"I think he's gonna do a lot of good things," he said.