Nashua shelter seeks donations for school backpack program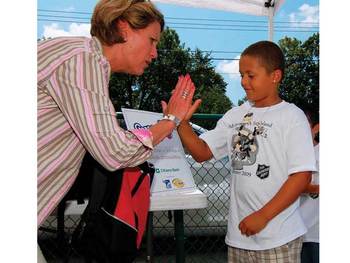 With summer winding down and school just around the corner, many area students may not receive some of the supplies they need.
The Nashua Soup Kitchen & Shelter released a statement Thursday saying they are in dire need of backpacks and school supplies for local children.
"We just don't have the donations," said Carol Weeks, Volunteer Coordinator and Community Educator at the Nashua Soup Kitchen & Shelter. "We need to get the backpacks and the school supplies in here. We are really nervous because we are nowhere near the numbers that we need to be at."
For about a dozen years, the soup kitchen has donated brand new backpacks filled with school supplies for the upcoming year to students, from kindergarten to 12th grade, in need of assistance. Last year, they donated more than 2,000 of these filled backpacks to students from Nashua, Hollis, Merrimack, Hudson, Amherst and surrounding towns.
But this year, the amount of donated school bags has decreased substantially.
"We probably only have about half of what we had at this time last year," Weeks said.
As of Thursday, Weeks and the volunteers at the soup kitchen only had around 1,300 backpacks, leaving them well short of even last years projects.
On a brighter note, a similar but smaller program run by the Nashua Salvation Army had their annual summer backpack distribution Friday, giving some 200 backpacks to students in need.
"We are very excited to be able to help out," said Mary Ann Picard, Development Manager at the Salvation Army. "We have reached out to anyone who has come to us and asked them to make sure that the need is being met."
Unlike the private donations that are essential to the soup kitchen, all of the 200 backpacks given out by the Salvation Army were from a donation by Citizen's Bank Gear for Grades program, which provides more than 3,000 backpacks to students around New Hampshire.
"The donated backpacks are very nice," Picard said. "Students are able to choose between red, blue and black and each is filled with some notebooks, schools supplies, pencils, crayons and other things. The bags came with supplies already in them."
Through the donations, the Salvation Army feels they will have enough backpacks to supply all of their students.
"We have gotten many more phone calls in the last couple days," Picard said. "I didn't turn anyone away and told them each to come by. We want to make sure that everyone who has a need gets served, and I think we will just make it with enough backpacks. We will probably need every one."
The soup kitchen doesn't know why they haven't received any similar donations from the Citizen's Bank program.
"I know that the bank chooses who they give them to, so that might have something to do with why we haven't received any," said Weeks.
Like the Salvation Army, Nashua Soup Kitchen & Shelter has seen an increase in calls coming in. But the number of donations hasn't grown as much.
"Many of the stores aren't really having the same deals as they did last year," Weeks said. "Those deals encouraged people to purchase extra bags at the store to donate to us. People have been generous in sending us money to go and get supplies, but we are running out of money pretty much the same day we get the materials."
The soup kitchen will continue collecting backpacks Monday and. They hope through the last two days of collecting they are able to acquire enough backpacks for the students of families in need.
"It is hard enough to decide to pay for a backpack for your child or to put food on the table or to pay the light bill," Weeks said. "These are choices that they have to make. We are going to give them out until they run out."