Nashua residents gather to celebrate saint, vision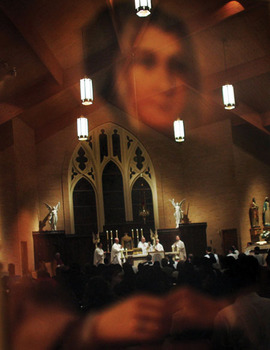 NASHUA – Every Dec. 12, the vast Spanish-speaking communities of Nashua and Manchester celebrate Our Lady of Guadalupe Day to mark the appearance of the Virgin Mary to peasant Juan Diego Cuauhtlatoatzin on the outskirts of Mexico City in 1531.
"Our phone lines have been ringing off the hook. Many callers are without electricity and could not come tonight," said the Rev. Richard Dion, pastor of St. Aloysius of Gonzaga, a church with 600 parishioners.
But cold weather and a power outrage that affected an estimated 400,000 people in the state couldn't keep hundreds of Catholics away from their parish.
At 6:30 p.m., the bells at St. Aloysius rang as church-goers were handed leaflets with Spanish songs. This was no small celebration. For the second year, the congregation observed the re-enactment of Mary's apparition, which was followed by a candlelit procession to St. Patrick Church and a feast.
As entire families chanted "A ti Vigencita" ("To You Virgin"), accompanied by a band in the mezzanine, a special Mass was conducted in Spanish.
The foreign language didn't bother Ruth Beland, of Nashua.
"The indigenous populations of Mexico used a language filled with signs," Beland, a parishioner at St. Patrick Church for more than 60 years, said of the Aztecs. "I know what this is all about, and I can feel it."
Maria Ayala, a local factory worker, always dresses her two kids in traditional Mexican clothing. Her boy wears a "tilma," a woven cloth made with coarse fibers, intended to be a replica of Juan Diego's.
"This is a little representation of our faith," Ayala said. "We're very glad to live in America while continuing to value our culture."
While the environment was festive, with seminarians from Boston, Providence, R.I., and Baltimore on hand, the humility of any Mass was there, as well. Not even the presence of Bishop John B. McCormack, of the Manchester Archdiocese, broke the light tone of the ceremony.
"I wish I could speak Spanish," McCormack said. "But we understand each other through our love for Christ. Your devotion to Mary is not only moving, but meaningful."
The celebration also attracted some first-timers to St. Aloysius. Dick Petrawsky, of Hudson, was drawn by his special devotion to Mary.
"It's inspirational to see such a wonderful devotion for the Mother of Christ," said Petrawsky, a retired technician for BAE Systems. "I know that those who came here looking for some strength can find it in their faith for Mary."
As the tale goes, Mary appeared to Juan Diego four times. The peasant related the apparition to a Franciscan bishop, who didn't believe him. Mary arranged a bouquet of flowers in his "tilma." When Juan Diego showed the flowers to the bishop, an image of Mary appeared imprinted in his ragged clothing.
In Mexico, his story had a significant impact on the spread of Catholicism. The Roman Catholic Church canonized him in 2002 as its first indigenous American saint.