Nashua residents find squirrels one gnawing problem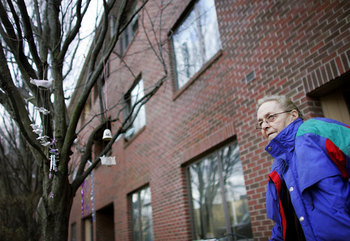 NASHUA – Teri Gilcreast doesn't view squirrels as cute nut-gatherers that entertain with their acrobatic antics.
To her, they're annoying – even dangerous – bushy-tailed home-invaders.
Gilcreast, who lives at Arel Manor on Pine Street, said squirrels have wrecked a small tomato patch outside her front door. Worse, they've been able to infiltrate her apartment, eating her cat's food and generally wreaking havoc, she said.
"They aren't cute," Gilcreast, 70, said. "They're rats."
Richard Valle has found squirrels to be more than a nuisance. They're also expensive, he said.
Squirrels gnawed through wires in the engine of his 2007 Toyota Tacoma pickup, leaving behind the need for a $153 repair and a broken peanut shell.
The shell spoke volumes, Valle said.
Valle and Gilcreast blame their squirrel woes on two groups – besides the squirrels themselves, that is.
One group is the Arel Manor residents who insist on feeding the squirrels. Thus, the peanut shell.
The other: Nashua Housing Authority officials, whom Valle and Gilcreast say haven't responded to their many requests to address the problem.
Fed by humans, undeterred even by Little Boy, Gilcreast's cat, the squirrels have grown fat and bold.
Gilcreast said one jumped up on her computer desk and hissed at her. Another she had to fend off with a broom, she said.
"They're about the size of small dogs," Valle said.
Frustrated, Gilcreast contacted the city's animal control officer, who placed a humane trap near a tree outside her apartment. Squirrels toyed with the trap and were able to spring it without getting caught, she said.
Adele Evinson, property manager for the authority, referred questions to George Robinson, the executive director.
Robinson said he has spoken to city officials who have promised to place a larger "Have a Heart" trap at the apartments.
According to Robinson, only one tenant at Arel has complained about seeing a squirrel inside the building. Squirrels are entering the apartment not through holes, but because the door is left slightly ajar so the cat can go in and out, said Robinson, who did not mention Gilcreast by name.
"She's been repeatedly asked not to leave her door ajar, which she refused to do," Robinson said.
Gilcreast said squirrels have entered her place even when the door is closed and denies that they're coming in through an open door.
Gilcreast has lived for 16 years in Arel Manor, which has 110 apartments for elderly and disabled residents. Squirrels have long been a problem, but more so in recent years, she said.
"We've always had a problem because people keep feeding them even though they're told not to," she said.
An incident Thursday highlighted the differences, and perhaps tension, between residents who see the squirrels as pests and others who want to keep them as cute neighbors.
Hoping to frighten away a squirrel perched in a tree near his home, a resident grabbed a baseball bat and began pounding the tree trunk.
Another resident who witnessed the incident called police and, in essence, reported an assault on a squirrel.
Some might find the incident amusing – or find humor in the entire issue. Bob Langis, animal control officer with the Nashua Police Department, isn't one of those people.
Langis said the squirrel problem is caused partly by lack of maintenance in the building, and partly by residents who insist on feeding the animals.
"People are supposed to be responsible for the maintenance of this building," Langis said. "Wild animals are getting in."
Loose shingles or small holes are providing "an open invitation" for the squirrels to enter, he said.
"It really comes down to routine maintenance," Langis said.
As for the people who feed the squirrels, Langis said, "Wildlife does not need our help to live. Animals have been surviving for thousands of years. Us feeding them is half the problem."
He added, "And the birdfeeders – that's like a buffet."
The squirrel issue has been "going on quite a while" but particularly has been a problem since the summer, Valle said.
Both Valle and Gilcreast want residents to quit feeding the squirrels.
So does Robinson, who noted that squirrels aren't the only varmints that have been troublesome at Arel. Ducks and geese, also fed by residents, have been an issue there, as have seagulls, he said.
A contributing factor is that Sandy Pond lies directly behind the apartment building.
"It is in a city," Robinson said of Arel Manor, "but that pond's been there a long time."
While the squirrels continue to be pests, Valle and Gilcreast said they hope the housing authority – their landlord, in essence – will seal up holes along the roof, where residents suspect squirrels are gaining entrance to the building.
More than anything, they want the troublesome invaders gone.
"We need help getting this building cleared out," Gilcreast said.