Nashua high-schoolers get jump-start on the year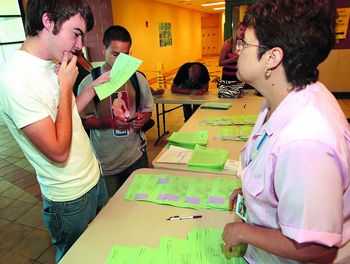 What summer?
That was the feeling among some students Monday as they picked up their high school schedules in preparation for another year of school.
For students in Nashua, the first day back is Tuesday of next week.
"I could use a few more weeks," said 16-year-old Amy Polaneczky, laughing. She did some traveling this summer, but mostly spent a lot of time relaxing and hanging out with friends.
But as much as she would like to see summer continue, Polaneczky is also excited to start her senior year. She said she'd be trying to balance preparing for college, doing well in classes and being involved with cheerleading and track.
Students were waiting in line at Nashua High School North to get their pictures taken for their IDs, and pick up their schedules, bus passes and parking permits. When friends got their schedules, they quickly compared their classes to see if they had any together.
Senior Melissa Lipkind, 17, said she would be spending her final week of summer vacation shopping for school clothes and trying to get to the beach a few more times.
Fortunately for her, the weather is supposed to cooperate. For the final week of vacation, the forecast is predicting sunny skies and 80 degrees. Lipkind said she spent her summer working at a camp.
Senior Stephanie Smith, 17, also spent much of her time working this summer at a Hannaford supermarket. She couldn't believe she is already entering her senior year.
"It went by so fast," she said.Smith said as much as she has enjoyed summer, "I'm ready to go back."
Polaneczky and friend Zane Whitney, 17, said they were looking forward to a full school year free of the distractions that resulted from the teachers contract situation.
"I'm glad that's over," said Polaneczky.
Whitney said he was glad the teachers got their contract and hopefully everything would be back to normal.
Administrators are busy preparing for the new school year too.
Althea Sheaff, executive director of curriculum and instruction, told the school board last week that the district would hold training for new teachers from Aug. 20 through Aug. 22.
There will be more than 100 new teachers this year, according to the school district. The program is something the district does each year to acclimate new teachers to the school district, Sheaff said.
Jim Mealey, the district's operating officer, said there were 127 retirements and resignations among the teaching staff this year. That is compared to 112 and 113 in the past two years, respectively.
"It's more, but not a lot more than I expected, he said.
In addition to new teachers, there were several changes in school leadership over the summer. Seven schools will have different principals this year.
Ed Hendry, associate superintendent, said a number of meetings are going on to make sure the district is ready for the first day.
Last week, the district held a meeting with all of the principals focusing on establishing leadership qualities.
"We spent a lot of time looking at data and looking at principals' roles towards accountability and their responsibility for student achievement," he said.
Already this week, Hendry said, there was a meeting with the new principals to go over district protocols. There have also been meetings with administrators to discuss any issues with transportation, student scheduling and technology, among other things, he said.
The district is using a new student information system this year for scheduling and attendance. Hendry said there has been training for staff to help get accustomed to the system.
Custodians are also busy making sure the buildings are ready to use, he said. On Monday, all of the district's teachers will gather at Nashua High School South for an all-staff meeting, Hendry said.