Nashua high school holds financial education fair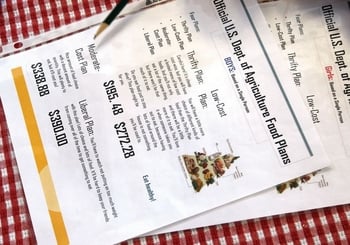 NASHUA – As a teenager in one of the many families impacted by the recession, Sarah Juknievich is already learning what it means to have to make tough decisions.
Juknievich, a freshman at Nashua High School North, said her family had to move into a smaller home because of the rough economy. She hopes to study fashion design in college, but knows that it's not going to come for free.
"Hopefully, we can save up some money," she said. "I've been looking for scholarships."
On Thursday, Juknievich was one of nearly 500 freshmen at the school taking part in the CU 4 Reality Financial Education Fair, a program that is in its third year at the school.
As part of the program, students have to choose a career path and are then assigned a typical entry-level salary for their field. On Thursday, the students had to fill out their monthly budget, accounting for everything from rent to food costs.
However, this year, the program took on a more realistic meaning for some cut back on certain things as the
country endures a recession that has seen millions of Americans lose their jobs.
"(The program) is probably more apropos now, with families having to do more with less," said John Young, chairman of the New Hampshire Credit Union League.
Sponsored by America's Credit Union Museum in Manchester, the program is held in nine other schools in the state.
As students try to make ends meet, they have to make certain sacrifices, said Dennis Hebert, with Granite State Credit Union.
"It's really to prepare them for the challenges they're going to face," Hebert said. Granite State Credit Union has a branch at North and is one of the credit unions that helps to sponsor the event.
Representatives from the credit unions volunteer their time to work with students trying to manage their finances.
Bill Ryan, financial education director for the American Credit Union Museum, said there is no specific requirement that schools teach students about how to manage personal finances.
Ryan said that while most schools educate students about economics, more could be done in the way of teaching them how to do things like saving for retirement and balancing a checkbook.
"In general, personal finance is not being widely addressed in New Hampshire," he said.
Student Cameron Engelhart was given a starting salary of $35,000 as a starting FBI agent. But much of that salary was already gone after having to pay his $650 in rent and $362 in car payments each month, he said.
After studying what it takes to make ends meet, Engelhart said he has a greater appreciation for the value of budgeting your finances.
"After the past couples months, I understand it better now," he said.
Students also had to take a spin on the "wheel of reality," where they could lose or gain money, depending on their luck. Some got a $1,000 scholarship, and others lost $500 in a "computer catastrophe."
To prepare for the day, students had been studying about finances and career choices in their freshmen seminar classes, Assistant Principal Chris Matika said.
He said there was more interest among students this year, possibly because of all of the news of the country's economic crisis.
"I think they're more understanding of the fact that they need to know this," he said.
Tiera Jackson, 15, chose to be a psychologist. After doing the math and adding up all her bills, she realized there was nothing left at the end of the month.
"I'm broke," she said, laughing.
If their bills add up beyond their salaries, students have to re-evaluate their finances and reduce their bills.
For the most part, students said their families were doing OK in the recession. Most students said they hadn't noticed any changes in their lifestyles.
Austin Bauer, 14, said his family has had to cut back on "little things."
As Karissa Hebert, 14, sat down with her calculator and added up her bills, she was learning how those little things could add up quickly.
"Now I know why my parents tell me they never have any money," she said, laughing.