Nashua Christian Academy holds '09 'Serve-a-thon'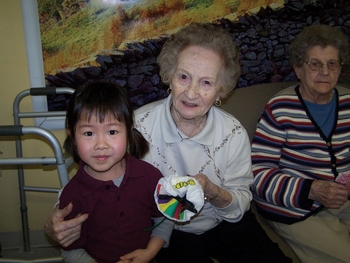 Putting into action their motto, "Passion for God, Compassion for People," students at Nashua Christian Academy embarked on a series of hands-on service projects in the school's 2009 "Serve-a-thon." This schoolwide effort involves NCA students from kindergarten through grade 12. To date, NCA students have traveled to six locations in New Hampshire and Massachusetts to serve area residents and communities, including Rose Haven Assisted Living Home in Merrimack on May 12; Greenbriar Terrace Healthcare in Nashua on May 13; and Grotonwood Camp in Groton, Mass., on May 15.
The final project in this year's Serve-a-thon was June 9, when NCA's first- and second-grade students visited the military workplace of Christy Bashor of Nashua. Bashor, mother of NCA first-grader, Aiden, serves in the Army, and is scheduled to be deployed to Afghanistan for a year in November. Aiden's father, Eric Bashor, who also serves in the Army, will leave in August for a one-year tour in Iraq. In addition to meeting with the Chaplain, taking a tour and a physical education class, the students will present cards, notes and gifts for the soldiers.
While the service projects were under way, the fundraising component of the Serve-a-thon was set in motion as NCA students launched a concurrent letter-writing campaign, asking sponsors for financial support. The goal was to raise $30,000.