Nashua breakfast fails to link up with Phil at big moment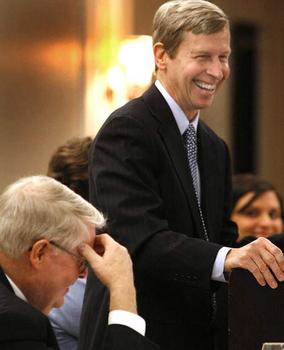 NASHUA – A live video hookup to Pennsylvania didn't go off as planned.
Nobody in the hotel ballroom saw the groundhog known as Punxsutawney Phil see his shadow, but that didn't mean he hadn't.
When word finally arrived that Phil had spotted his silhouette, everyone in the ballroom sighed. It was proof that metaphor or not, even a groundhog can deflate a New Englander's simple wish that winter will end early.
So with six more weeks of winter weather ahead, everyone in the room snapped back to reality. That meant staying for the remainder of the ninth annual Granite State Groundhog Gathering Breakfast and not leaving early to enjoy Monday's relatively mild temperature, even if another snowstorm was in the forecast for today.
The breakfast, held at Crowne Plaza Hotel, benefited the Salvation Army's Emergency Disaster Services, a program made up largely of volunteers who respond to fires, major accidents and other disasters 24 hours a day in Greater Nashua.
Gifts were raffled, awards were presented and a few politicians were roasted.
Former Mayor Bernie Streeter, the event emcee, ribbed Gov. John Lynch about a big upcoming decision. Lynch will appoint a successor to Sen. Judd Gregg should the Republican lawmaker take the Cabinet-level commerce secretary job in the Obama administration.
Lynch gave it right back to Streeter, recalling some of the former mayor's past controversies, including dumping leaves in a City Hall dumpster and driving down a one-way street in Manchester.
Lynch joked that Streeter called him during the Super Bowl to make a bid for the Senate position. Streeter, Lynch said, promised that he "won't put trash in a city dumpster" again and won't get in trouble with Washington police.
Yankee Magazine Publisher Jamie Trowbridge said the time had come for New Hampshire to break its reliance on Punxsutawney Phil to forecast weather. The Granite State could rely on Trowbridge's dog and cat to predict the length of winter, he said.
Despite not seeing the groundhog on the video screen, Punxsutawney was represented in the ballroom. Native daughter and current Manchester resident Melissa Ploucha described life growing up in Punxsutawney and the town's connection with the yearly ritual.
"The groundhog is right one hundred percent of the time," Ploucha said.
Tom Jenkins was named Salvation Army Citizen of the Year.