N.H. to Mass. companies: We're open for business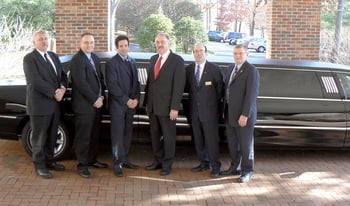 The New Hampshire Open Invitation Initiative may be bold, creative and enterprising, but one thing it isn't is subtle.
Go to the Web site, nhopeninvitation.com, and the first thing you will see is cartoon figure dressed in colonial Pilgrim garb standing alongside a long list of Massachusetts taxes — income tax, estate tax, a 5 percent sales tax and a 9.5 percent corporate business tax among them. The Pilgrim cries, "Enough!" then wheels out a cannon, lights the fuse and blows the picture up. When the smoke clears, there is an outline in granite of "New Hampshire the Rock Solid Alternative."
There is a lot more on the Web site that promotes the benefits of doing business in New Hampshire, including the lack of a sales or income tax, a favorable business climate with a pro-growth government, a wealth of natural beauty and outdoor attractions and a variety of cultural and recreational amenities that go under the heading of quality of life. All of it is aimed at getting Massachusetts businesses to consider expanding or moving into New Hampshire as a means of increasing their overall business and profitability.
The Business Resource Center within New Hampshire's Department of Resources and Economic Development has launched the program, but DRED officials are getting assistance from a number of private companies interested in selling New Hampshire's advantages to enterprises south of our border.
In rolling out a proverbial red carpet to interested Massachusetts executives, Capital City Limousine of Concord will pick up company officials in Massachusetts and drive them to one of the Common Man restaurants in New Hampshire to discuss business prospects over lunch. The executives may then enjoy free skiing at Cannon Mountain or take in a Manchester Monarchs hockey game, along with a complimentary stay at the Radisson Hotel in Nashua. All of these accommodations are being provided free to the business prospects and at a cost of "next to nothing" to New Hampshire taxpayers, said Steve Boucher, communications and legislative director for the state Division of Economic Development.
The entire initiative will cost the state between $1,500 and $2,000, mainly for advertising in a Massachusetts high-tech publication, Boucher said. An advertising campaign on Lowell, Mass., radio station WCAP is being paid for by private contributions, through the New Hampshire Economic Development Association, he said.
Side-by-side comparison
Promotion of the initiative includes sending letters to more than 800 Massachusetts companies. Public Service of New Hampshire, the state's largest electric utility is sponsor of the Open Initiative Web site, offering a state-to-state cost comparison of doing business in Massachusetts and New Hampshire.
The state's competitive electric rates are only part of the story PSNH is eager to tell, said Pat McDermott, the company's economic and community development manager.
"It's very striking when you visit the site and see the cost of doing business in New Hampshire versus Massachusetts," McDermott said.
In addition to the lack of either a general sales or income tax, New Hampshire has a business profits tax that is, at 7.5 percent, a full 2 percent lower than in Massachusetts. The Web site also promotes the state as one with a relatively small government that is close to the people and responsive to the needs of businesses. A recent reduction in the insurance tax, from 2 percent to 1 percent offers significant additional savings for businesses, according to the site.
Good schools, low crime rate and the availability of excellent health care, both in New Hampshire and within a reasonable driving distance from New Hampshire to Massachusetts are among the primary factors considered by companies looking to move into the Granite State, said Mike Bergeron, New Hampshire's business development manager. Even with a relatively low unemployment rate, the state has a large number of skilled workers who could be available to work for companies that open up businesses here, he said.
"Many of them will not work in Massachusetts because of the income tax, or are working in Massachusetts and would love to come back and work in New Hampshire," Bergeron said.
In addition, companies that move into the state's southern tier would be able to draw from the labor pool in northern Massachusetts. Companies on the New Hampshire Seacoast can attract workers from Maine as well, while companies moving into the southwest corner of the state can draw from Vermont and Massachusetts, as well as southern New Hampshire, he said.
Competitive business
The pool of available labor will be larger throughout the region if the latest forecast of the New England Economic Partnership holds up.
In a report released on Nov. 20, NEEP predicted the nationwide recession will result in rising unemployment rates throughout New England from now through 2011. New Hampshire unemployment, now at 4.1 percent, is expected to rise 7.4 percent — higher than the 6.9 percent projected for Vermont, but lower than that of any other state in the region. Rhode Island is expected to have the highest unemployment among the New England states, at 10.3 percent, while Maine would be second, at 8.7 percent. Massachusetts and Connecticut are both expected to have 8.3 percent unemployment.
Yet unemployment in New England will be lower than the national average, the report predicts, "due to the relatively high level of educational attainment and slow growth in the labor force in the region."
UNH economic professor and NEEP president Ross Gittell said the Open Invitation Initiative is one way to try to offset anticipated economic losses, but suggested DRED might better focus its limited resources on helping troubled companies already in the state.
"There are a lot of companies that can use some assistance, some attention in trying to figure out how to keep their businesses going," he said. "Massachusetts companies are struggling, too," Gittell said, and New Hampshire would be better off focusing on companies here "instead of courting companies from our neighbor to the south."
DRED officials say they do spend most of their time and efforts working with companies in the state. Bergeron said there are six state economic development officials working full-time on retention and expansion of existing firms, compared to two recruiting companies outside the state.
"I think any smart business plan is based on retaining current customers and attracting new business," said Bergeron. "You can't do one without the other. Without growth, stagnation occurs."
The effort to attract new business is critical in an economic downturn, said Russell Thibeault, president of Applied Economic Research in Laconia.
"No matter what the state of New Hampshire does, some New Hampshire companies are going to downsize or go out of business," Thibeault said.
Suppliers and others connected to the auto industry, for example, are particularly vulnerable. "New Hampshire's not going to be able to save the U.S. auto industry," he said. The initiative may help the state draw business from outside its borders, he said, while it strives at the same time to retain companies already here.
"I think it sends a very strong message that New Hampshire is open for business," Thibeault said. "Are people really going to take advantage of it? I don't know. But it has attracted a lot of attention and at a minimal cost."
What it means, said Boucher, is that New Hampshire is taking care of business both within and without its borders.
"The bottom line is, business recruitment is a very competitive business," he said, noting that other states and localities are also looking to attract companies to promote their economic development. "New Hampshire needs to take care of New Hampshire as well."