N.H.'s January exports surge 25.7 percent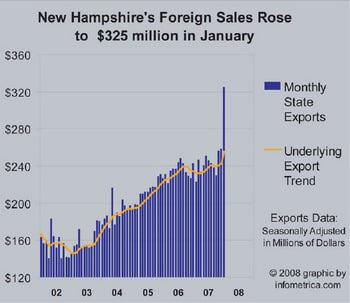 While domestic demand for goods made by New Hampshire companies has slowed down, thanks to weakened spending amid the bust in the housing market, the credit crunch in the financial markets and the slowing of job creation, foreign buyers have eased the pain.
In the latest snapshot of international trade, sales abroad of goods made in the Granite State surged by $66.4 million, or 25.7 percent, to an all-time monthly high of $324.9 million in January, adjusted for seasonal variation.
The January surge in New Hampshire exports came from soaring purchases by Philippine and Chinese companies. In January 2008, firms in the Philippines bought $47 million in goods made in New Hampshire, compared with one half of a million dollars in January 2007. Similarly, China bought $31.3 million in goods last January, a 72.8 percent jump from purchases made in January of 2007 when they totaled $18.1 million.
Exports of goods from New Hampshire, seasonally adjusted, increased in January by an annual rate of 34.1 percent from the same month in 2007. As a result, New Hampshire ranked 12th in export growth among the 50 states in January.
January's exports were largely driven by manufactured goods, which accounted for 88 percent of all state exports. Foreign shipments from manufacturing companies increased in January by 34.8 percent from the previous month to a record high of $284.6 million, adjusted for seasonal variation. The jump in exports of manufactures was driven by surging overseas shipments of electrical machinery and optical fiber cable.
Exports of non-manufactured goods fell 14.8 percent in January to $40.3 million, adjusted for seasonal variation.
At the national level, exports rose 1.6 percent in January to an all-time high of $104.6 billion, mainly reflecting record sales abroad of food, feeds, beverages, industrial supplies and materials and consumer goods.
But, according to the International Monetary Fund's October World Economic Outlook, "the global economic expansion has begun to moderate in response to continuing financial turbulence."
The IMF has reduced the growth projections for the advanced economies – the world's rich industrial countries – to 1.8 percent in 2008 from 2.6 percent in 2007. The global think-tank predicts that economic growth in the rest of the world – the emerging economies of Asia and the developing countries – will ease, "moderating from 7.8 percent in 2007 to 6.9 percent in 2008." Particularly, IMF projects economic growth in China to decelerate from 11.4 percent in 2007 to 10 percent in 2008.
The IMF predictions imply that foreign demand for goods from New Hampshire's exporters will increase in 2008 but will not be as strong as in 2007. nhbr
Evangelos Simos, chief economist of the consulting and research firm Infometrica Inc., is international affairs editor of the Journal of Business Forecasting and professor at the University of New Hampshire. Distributed by Infometrica Inc. Dr. Simos may be reached at eosimos@infometrica.com.