N.H. retailers find a friend in social media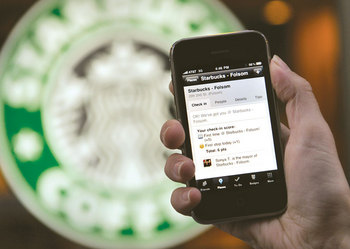 In hopes of increasing foot traffic, more and more New Hampshire businesses are offering deals and discounts direct to consumers through their cell phones and Web-enabled devices – a marketing trend that is poised to grow exponentially, say social media gurus in the state.Using geolocation technology, popular social media applications allow consumers to "check in" at bars, restaurants, stores and more, all in real time straight from their mobile phones. The most popular service is Foursquare, which appeals to users for its social-gaming aspects: they can win virtual badges for checking in, see where their friends are going, and write tips and reviews, such as reporting on whether a café only takes cash or that it's busiest at noon.Some local businesses are cashing in, encouraging consumers to come in by offering deals exclusive to Foursquare users. For example, Modell's Sporting Goods in Nashua offers users $10 off a $50 purchase, and The Common Man in Portsmouth offers 25 percent off an entrée from Sunday to Friday.Foursquare users can even compete to become a venue's "mayor," an honor bestowed on whoever has the most check-ins at a place in a set amount of time, entitling them to such rewards as free nachos or an extra scoop of ice cream at various New Hampshire eateries.For businesses, this is a simple way to build consumer loyalty, said Allen Voivod, co-founder of Gilford-based social media marketing firm Epiphanies Inc.Just getting startedOther check-in services, including Gowalla, Google Places and Yelp, feature slight variations on the technology, but a similar check-in function.Since these location-based services can be linked with a user's Twitter and Facebook accounts, New Hampshire businesses using them are receiving increased online exposure and visibility with little to no effort – in other words, putting marketing "in the customers' hands, which generally, in the business world, is where things are going these days," said Voivod.And as more people use smartphones, we're "really just seeing the start" of this type of marketing, said Voivod, who, incidentally, is "mayor" of a dance academy in Gilford where his son takes classes."Customers may already be using it, whether you're using it or not," said Walter Elly, senior director of emerging technology at MicroArts, a marketing firm based in Greenland.Foursquare lets business owners register and claim their venues, which gives them two benefits, said Elly – not only does it let businesses respond and engage with customers, but it also provides an "instant foot traffic survey.""You get free analytics and metrics about how people are using Foursquare at your venue," he said, which lets businesses know their top customers, what time of day people check in, and whether they're sharing information with friends.Whether the technology actually has a large enough adoption rate to make any noticeable difference in business traffic has been questioned by critics.A recent Pew Research Center study found that 4 percent of online adults use location-based services, with 8 percent of people aged 18 to 29 using the services, making them the most active demographic.However, that number will likely rise in coming months, since Facebook recently announced it will be offering deals to its users from local businesses through its own geolocation service, Facebook Places. Users who check in will receive free goods, a discount or a donation to a charity in their honor.
Already more than 20 major international corporations have signed on, including Gap and Starbucks.More than 200 million of Facebook's more than 500 million active users already access the social network from their mobile devices, and these mobile users are twice as active on Facebook as non-mobile users. For businesses, this means access to a captive and much larger audience than ever before.Foursquare's rootsWhile it's difficult to quantify exactly how many businesses in the Granite State are taking advantage of geolocation services to offer incentives, Sean Owen, president of Manchester-based marketing firm wedü, estimates that about one-third of New Hampshire retailers are using the technology in some way to promote their business.Voivod said there are already thousands registered on Foursquare in the state. Both he and Owen expect those numbers to grow."Most of the venues you can check into are created by the customers," said MicroArts' Elly. "It's been a long time since I've had to make a venue."The roots of Foursquare use in New Hampshire can generally be traced back to last April 16, also known as Foursquare Day (the four-squared day of the fourth month). In Manchester, wedü marketed the day and brought on dozens of Manchester area businesses that offered deals to users, many of which have continued to offer deals beyond April 16.MicroArts had a similar promotion for Foursquare Day in Portsmouth."They had a tremendous response in both cities," said Voivod.In fact, of the more than 150 cities that participated in Foursquare Day worldwide, "Portsmouth had the most participating businesses and events of any city in the world," said Voivod.Claudia Rippee, co-owner of Republic Café and Bistro in Manchester – which offered a free cup of coffee or espresso that day – said there was a noticeable increase in foot traffic. Since then, the restaurant has had 750 check-ins and continues to offer free cold antipasti for the "mayor," a position for which two loyal customers have been battling, she said.According to wedü's Owen, businesses most likely to benefit from location-based services are retail or hospitality. Savvy retailers use it to reward customer loyalty – such as giving a free latte after every four purchased – which helps to increase sales, visitation and build a strong brand, he said.Since Foursquare Day, businesses in the state have continued using the service to offer deals to consumers. Since the technology has a higher adoption rate in urban areas, the service has caught on fastest in Manchester and the Seacoast, which are "big enough to be cosmopolitan but small enough to be closely connected as well," said Voivod.There have been some concerns from users. Broadcasting personal information about a user's whereabouts has certainly led to privacy concerns, said Voivod.
Several high-profile stories – like the Nashua burglary ring that allegedly targeted empty houses whose owners had posted on Facebook about being out – has some wary of the service that can track a user from morning coffee to late-night beer.Privacy concerns could affect how widely the technology is adopted, and subsequently how effective it is for businesses, said Voivod. But with controls in place that let a consumer determine his or her own privacy settings, the problem should not be insurmountable, he said."It's in [the service's] best interests to make sure users' privacy concerns are addressed," he said. "I don't think that's going to be a hamper to individuals or businesses."Owen agreed."A lot of people don't like it because they talk about Big Brother," he said. "But what we definitely see, as far as consumer behaviors, is that consumers are all more than happy to let you know they're in your store, as long as they don't have to tell the public and you'll give them something for their visit."To read more on the marketing uses of mobile phone technology, see "More shopping on mobile phones this holiday season" by Jason Little.Kathleen Callahan can by reached at kcallahan@nhbr.com.