N.H. goes against export growth trend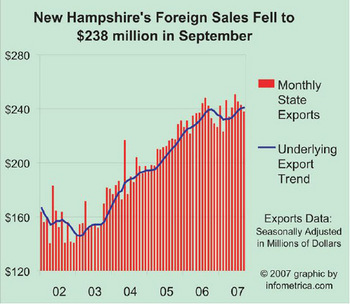 For companies that do business globally, gains in productivity increase sales both abroad and at home as lower prices improve domestic sales in relation to competing imports. As a result, a more competitive company, industry or region is likely to grow faster, enjoying high levels of production which creates jobs and contributes to overall economic development.
World Economic Forum, a Geneva-based international organization, has put together a measure of global competitiveness that includes key performance indicators that determine productivity. For nearly three decades, the global think tank has assessed the competitiveness of nations, publishing its findings in the Global Competitiveness Report.
According to the 2007 report, which covers 131 countries, the United States ranks first, maintaining its position as the world's most competitive economy. It was followed by Switzerland, Denmark, Sweden and Germany.
It was interesting to note that in this year's rankings, China and India, considered as low labor-cost exporting engines, ranked 34th and 48th, respectively.
An important criterion for international trade is the indicator for economic efficiency. Led by high scores in the areas of labor market efficiency, technological readiness and higher education, the United States ranked first in economic efficiency.
The strong foundations of competitiveness have enormously helped manufacturers to execute their global business strategies extremely well in the last three years in selling their goods abroad.
September decline
According to the latest snapshot of international trade numbers, exports of goods from around the nation continued to be on a record-breaking path in September. National exports of goods rose 1.3 percent to an all-time high of $100.2 billion, seasonally adjusted, the seventh record performance in the first nine months of this year. Exports from manufacturing companies accounted for 89 percent of all U.S. exports in September.
As for New Hampshire, September exports for the most part were driven by manufactured goods, which accounted for 88 percent of all state exports.
Overseas shipments from New Hampshire's manufacturers increased in September by 1.1 percent from the previous month to $208.4 million. On an annual basis, sales abroad from state factories were $4.1 million, or 1.8 percent, higher than September of last year.
Exports of non-manufactured goods dropped by 19.8 percent in September to $29.5 million, adjusted for seasonal variation. This group of shipments abroad consists of agricultural goods, mining products and re-exports, which are foreign goods that have entered the state as imports and are exported in substantially the same condition as when imported.
Accordingly, all exports from state companies fell $4.9 million, or 2 percent, in September to $237.9 million, adjusted for seasonal variation.
In September 2007, New Hampshire companies sold abroad $4.4 million, or 1.8 percent, fewer goods than in September 2006.
New Hampshire ranked 42nd in export growth among the 50 states during the first nine months of this year.
Evangelos Simos, chief economist of the consulting and research firm Infometrica Inc., is international affairs editor of the Journal of Business Forecasting and professor/department chair at the Whittemore School of Business & Economics at the University of New Hampshire. Distributed by Infometrica Inc. He may be reached at eosimos@infometrica.com.