N.H. firms see promise in Saudi Arabia market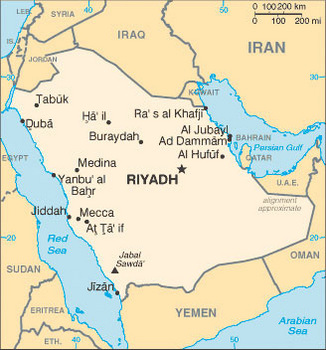 William McNary, vice president of business development for Aerosat Inc. in Amherst, believes now is an "excellent" time to go prospecting for business in the sands of Saudi Arabia.
"The Saudis are very eager to do business with Americans," says McNary. Aerosat, a manufacturer of airline communications systems, took part in a trade mission to Saudi Arabia last fall under the aegis of the Eastern Trade Council, a 10-state organization promoting international trade in the six New England states, along with New York, New Jersey, Pennsylvania and Delaware. During the visit, Aerosat was matched with a potential customer in Saudi Arabian Airlines.
"They're looking at new ways of getting data to and from the aircraft and looking into getting data access in-flight from the Internet," says McNary.
While Aerosat is busy these days producing new systems integrators for Southwest Airlines and Alaska Airlines — a task McNary describes as "all-consuming" — the company remains in touch with its potential trading partner in Saudi Arabia and expects to return soon for more face-to-face talks.
"As soon as we have this work with Southwest and Alaska behind us, we're planning on going over there," says McNary.
They'll find plenty of American businesspeople there with them.
U.S. companies last year sent $10.4 billion in exports to Saudi Arabia, double the $5.4 billion of 2004. Exports dropped from $6.2 billion in 2000 to $4.6 billion in 2003, due in part to the bursting of the technology bubble in 2001. And the September 11th terrorist attacks put a damper on trade and travel between the two countries.
"People were uneasy traveling to Saudi Arabia after 9/11," says Dawn Wivell, director of the New Hampshire Office of International Commerce. "It's very hard to do business in places you're not traveling to."
But if that unease remains, Wivell saw no signs of it when recruiting among New Hampshire businesses for the trip. Nine New Hampshire companies were among the 17 East Coast firms making the trip.
"The Saudi Arabia mission was the easiest I had to recruit for," says Wivell who has been organizing trade missions at the state's International Trade Resource Center in Portsmouth since the early 1990s. "We had to stop recruitment, because we had only so much space. There was no unease, except that a couple of women, including me, had to learn how to dress and behave and that kind of thing."
Only three women went on the trip and all wore the "abaya," an overgarment that covers the wearer from the neck to the feet. In deference to Saudi custom, they covered their heads with scarves, much to the dismay of some U.S. embassy officials.
"On the one hand, I had the embassy saying, 'Why cover your hair? You're from America, you're not Saudis'," Wivell recalls. On the other hand, "Even high-level captains of industry told us how much they appreciated our efforts to dress appropriately. If you're paying attention when traveling, you know instinctively what's appropriate and what's not."
$1.4 trillion opportunity
New Hampshire products make up just $7.3 million of the more than $10 billion of U.S. exports to Saudi Arabia, according to U.S. Department of Commerce figures, with computer and electronic equipment topping the list. Manufactured machinery, electronic equipment and appliances and manufactured chemical products also are in the top 10. These and other sectors of the Saudi economy will grow dramatically in the next 10 years, predicts Edward Burton, president of the U.S.-Saudi Arabian Business Council.
"Between now and the year 2020, $1.4 trillion has been earmarked and is being spent by the Saudi government on economic development projects in most industrial sectors, including petrochemical, telecommunications, water desalinization and energy," says Burton.
The Saudi government is already building six new "economic cities," each built around a specific sector of industry. A city built to promote information technology or energy projects will need the same wide range of services that any city does, says Burton.
"We're talking telecommunications, the broadband wiring of an entire city, or even just hotel garbage collection, city water projects, municipal waste — anything you would envision going into a city."
The Saudi Arabian General Industrial Authority and the key promoters of the projects are actively encouraging investment from around the world and anticipate $111 billion in foreign investment and the creation of 1.3 million new jobs, Burton says.
Grace Preston hopes some of that new money will find its way to Secure Care Products Inc.
The company's international sales director believes Secure Care's radio frequency ID and access control system will be a valuable product in the new hospitals that will be built in the economic cities.
The ID frequency is used to prevent infant abductions, while the access control "prevents Alzheimer's and dementia patients from wandering out of a health-care facility," Preston says.
One of the New Hampshire businesspeople on the Saudi trade mission, she is looking for a business partner there to help promote the product.
"I'm actually working with a couple of different companies to try and establish some traction in the region," she says. "Establishing relationships like these take a long time anyway, and our product tends to have a very long trade cycle. Seeds planted today will bear fruition anywhere from 12 to 36 months out."
A 'fair shake'
In April, the New Hampshire International Trade Resource Center brought representatives of five New Hampshire firms to Turkey for a Trade Winds Europe Conference in Istanbul, where they met with officials from the U.S. Department of Commerce as well as trade representatives from a number of European countries. Michelle Ouellette, a former deputy director at the ITRC and currently business development director for Nashua-based Sky-Skan Inc. was on both the Saudi and the Turkey missions, promoting the company's digital software and three-dimensional video creations for full-dome theaters and planetariums. The company has created its night sky and virtual flight experience in several theaters here and abroad, including the Christa McAuliffe Planetarium in Concord.
Saudi Arabia is probably a little bit of a tougher market, says Ouellette. "They don't have many theaters and just a handful of planetariums." Yet Ouellette and others on the Saudi mission spoke glowingly about the friendliness and hospitality of their Saudi hosts and of the overall economic climate.
"The business climate there is much more favorable than anyone expected," said McNary, citing changes that have been implemented in the nation's business and banking systems. "One of the big changes they have made recently is they have established an independent judiciary, such as we have. That's very important. One of the things you worry about when going into a foreign country is, if you get into a dispute, can you get a fair shake?"
Burton believes that with more exports from New Hampshire and other states, U.S. businesspeople can get more than a "fair shake" by pursuing trade in the Saudi kingdom. They can get more of those petrodollars coming back into the U.S. economy.
With the price of oil above $130 a barrel, he says, "you have tremendous economic liquidity in the region. There are opportunities that American companies must not look away from."