N.H. exports top $300m again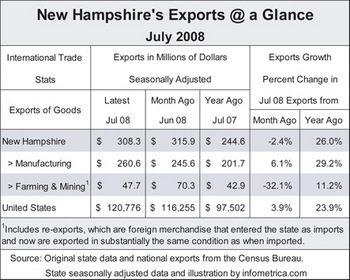 In the last three years, strong global demand and a weak dollar have propelled state exports contributing to strong economic growth and the creation of export-related jobs. How long will the good times last for New Hampshire's exporting companies?
On the dollar front, there is a realignment of currencies in favor of a strong dollar. The dollar began rising in the spring, and since April, the dollar's increase has accelerated against a variety of currencies, from the euro to the yen.
On April 16, the euro hit a record high of $1.60. Four months later — on Sept. 12 — to buy one euro you needed $1.40. A stronger dollar eventually will slow down the rising export trends, by making state exports more expensive for foreigners and goods made abroad cheaper for Americans.
A second drag on future state exports is the weakening of economic growth abroad, which is expected to curb the appetite of foreign consumers for American goods. Think tanks at international organizations have slashed their forecasts on economic growth for the rest of 2008 and 2009.
On Sept. 10, the European Commission said that "growth performance of the European economy has come to an end" and predicted the bloc's economy will grow by 1.4 percent in 2008. In the Euro Area, the subgroup of 15-countries that use the euro as their currency, overall economic activity declined 0.2 percent in the second quarter for the first time since the inception of the euro in January 2002.
According to the commission's forecast, the German economy will go into a recession in the second and third quarters of this year, and the United Kingdom and Spain will move to recessions in the third and fourth quarters of 2008.
Separately, on Sept. 9, the International Monetary Fund predicted the global economy will slow further in the second half of 2008, with a worldwide recovery gaining pace gradually in 2009.
Historically, foreign economic conditions and the dollar's influence on exports take about a year to translate to changes in actual shipments from New Hampshire's exporting companies. Although state exports did not climb higher, they stayed on their upward trend in July, according to the latest international trade numbers.
The recent 2.4 percent fall in state exports means $308.3 million worth of goods left New Hampshire for international markets in July, the fourth highest monthly amount on record. On an annual basis, New Hampshire's exporters posted gains. In July 2008, shipments surpassed their mark set in July 2007 by $63.6 million, or 26 percent.
In July, shipments of manufactured goods from New Hampshire jumped 6.1 percent to a seasonally adjusted volume of $260.6 million from June and 29.2 percent higher than in July of 2007.
However, exports of non-manufactured goods fell 32.2 percent in July to $47.6 million.
Nationally, exports of goods rose 3.9 percent in July to $120.8 billion — an all-time high mark. Through the first seven months of 2008, national exports of goods increased by an impressive annual rate of 19.9 percent in comparison with the first seven months of 2007.
In comparison with the same period in 2007, exports from New Hampshire's companies increased by an annual rate of 27.2 percent, compared with a 19.9 percent average growth for the nation as a whole.
As a result, New Hampshire ranked 17th among the 50 states through the first seven months of 2008 in export growth.
Evangelos Simos, chief economist of the consulting and research firm Infometrica Inc., is editor, international affairs, for the Journal of Business Forecasting, and professor of economics at the Whittemore School of Business & Economics at the University of New Hampshire. He may be reached at eosimos@infometrica.com.