N.H. exports surged in January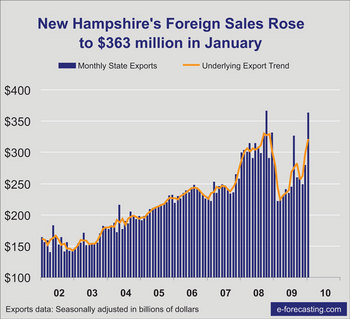 According to recently published statistics by the Organization for Economic Cooperation and Development (OECD), the global economy entered its recovery phase in the second half of last year.The OECD recently estimated the combined output of its member countries — the 30 richest economies in the world — to have jumped by an annual rate of 3.2 percent in the last quarter of 2010, following an increase of 2.4 percent in the third quarter.Looking at New Hampshire, 2010 dawned with news that exports from Granite State firms rose in January, surging by $83.4 million, to a monthly total of $362.8 million in January. It was the second-highest monthly exports mark on record. January exports increased by an annual rate of 27.4 percent from the same month in 2009.As a result, New Hampshire ranked 13th in export growth among the 50 states in January 2010. Exports of manufactured goods were the key driver of foreign sales in January, accounting for 88 percent of all New Hampshire exports. They increased by 43.8 percent from the previous month to $318.7 million.Exports of non-manufactured goods fell 23.8 percent in January to $44.1 million. For the nation as a whole, exports fell 0.7 percent in January to $98.4 billion. Forward-looking indicators signal that global economic conditions — vital to export-related jobs in New Hampshire — are expected to strengthen in the rest of 2010.The German Ifo Institute's World Economic Survey, a global economic barometer, improved in the first quarter of 2010 as key indicators of global activity rose for a third quarter in a row."The economic climate improved above all in Asia. Also in North America, Western Europe and in the other world regions, the economic climate is more favorable than in the previous quarter," explained Dr. Hans-Werner Sinn, president of the institute, which is based at the University of Munich.Looking forward, participants in the survey are again somewhat more confident. "This speaks for a continuation of the recovery of the world economy in the coming months," Sinn added.
Important for New Hampshire's exporting companies are the survey's findings about international trade, which reveal that experts from around the globe expect the volume of both exports and imports to increase in the next six months.These indicators confirm the view that the global economy will stay on its recovery path at least in the next six months.The increased dependence of the state's economy to global markets via exports is expected to contribute to overall state economic development more in 2010 than in 2009.Evangelos Simos, chief economist of the consulting and research firm e-forecasting.com, is editor for international affairs of the Journal of Business Forecasting and professor at the University of New Hampshire's Whittemore School of Business & Economics. He can be reached at eosimos@e-forecasting.com.