N.H. exports surge 13.6% in February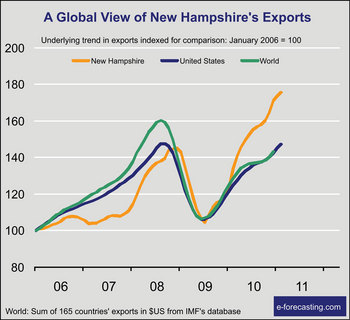 American exporters had one of their best years in 2010, shipping abroad $1.28 trillion worth of goods and surpassing Germany by $8 billion for the first time since 2003. National exports of goods jumped 21 percent in 2010 following a decline of 18 percent in 2009. As a result, the World Trade Organization ranked the United States the second-largest merchandise exporter, behind China, in 2010.
Germany was ranked as the world's No. 3 exporter. German exporters sold $1.27 trillion dollars of goods worldwide, which was 13 percent more than in 2009.In the first two months of 2011, national exports of goods rose to $211 billion, which is $38 billion, or 18.7 percent, more than the same period in 2010. The monthly numbers for 2011 indicate that American foreign sales continue their rapid expansion, helped by the global recovery and the low value of the dollar, which makes American goods less expensive to foreigners.In the latest snapshot of monthly trade numbers, exports from New Hampshire companies surged 13.6 percent in February from the previous month, following a decrease of 21.1 percent in January. At their February mark, foreign sales registered $400.9 million, seasonally adjusted, which is $48.1 million more than in January.Manufactured goods, a major contributor of export-related jobs, accounted for 71 percent of all state exports. Foreign sales from New Hampshire's manufacturers increased in February by 16.4 percent from the previous month to $286.2 million.On an annual basis, overseas shipments from state factories were $20.3 million, or 5 percent, less than in February of last year.Exports of non-manufactured goods went up 7.3 percent in February to $114.6 million.The Geneva-based WTO forecasts worldwide exports to increase by roughly 6.5 percent in 2011, measured in units of goods as they adjust the dollar values of exports for price changes.Specifically, the WTO predicts trade expansion in 2011 to be particularly strong in the developing countries with exports rising by 9.5 percent, while in the industrial countries exports will increase by 4.5 percent.The prediction of growth in world exports in 2011 will be "slower but still slightly above average," said WTO Director-General Pascal Lamy. However, he added, "recent events in the Middle East and Japan have raised the level of global economic uncertainty and tilted the balance of risk towards the downside."In sum, the WTO forecasts a continuation of growth in global trade at a slower pace in 2011. The projections suggest that New Hampshire companies will continue to receive higher volumes of export orders from foreign buyers this year.Evangelos Simos, chief economist of the consulting and research firm e-forecasting.com, is editor for international affairs for the Journal of Business Forecasting and professor of economics at the University of New Hampshire. He may be reached at eosimos@e-forecasting.com.