N.H. exports hit all-time high in October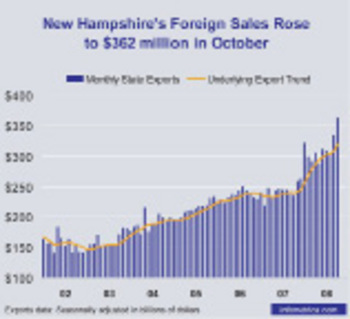 Despite the current worldwide economic slowdown, exports from New Hampshire companies continued to rise in 2008, hitting an all-time high in October 2008 as they jumped 8.5 percent from the previous month, following an increase of 10.1 percent in September.
In October, $362.2 million in goods left New Hampshire for international markets – which is $28.2 million more than the value of foreign shipments recorded in September.
Manufactured goods accounted for 92 percent of all state exports. Shipments abroad from New Hampshire's manufacturers jumped 7.6 percent in October from the previous month to their highest monthly level on record – $331.9 million, adjusted for seasonal variation.
On an annual basis, overseas sales from state factories were $135.3 million, or 54.9 percent, higher than October 2007.
Exports of non-manufactured goods surged 19 percent in October to $30.3 million.
Nationally, however, while U.S. exports hit an all-time high of $120.8 billion in July 2008, they have declined every month, reaching $104.8 billion in October.
As a result, in the first 10 months of this year national exports of goods increased 17 percent from the same period in 2007, surpassing by 4.8 percent the growth of exports in 2007, which hit the 12.2 percent growth mark.
During the January-October period, exports of goods from New Hampshire, seasonally adjusted, increased by an annual rate of 30.9 percent from the same period of 2007. Consequently, New Hampshire ranked 11th in export growth among the 50 states during the first 10 months of this year.
What are the prospects for global economic growth in 2009?
In its end-of-the-year global economic outlook, the Organization for Economic Cooperation and Development predicts that industrial countries are "on the verge of a protracted recession of a magnitude not experienced since the early 1980s."
The economic think tank in the world forecasts economic activity for its members – the 30 richest countries – to decline by 0.4 percent in 2009 and to increase by 1.5 percent in 2010.
In terms of New Hampshire's major trading partners, OECD's economic outlook predicts Canadian economic conditions to worsen in 2009, registering negative economic growth of 0.5 percent. Canada's economic growth will recover in 2010 hitting an annual rate of 2.1 percent, according to OECD.
In the euro area, economic conditions are also forecast to deteriorate in 2009, posting a negative growth rate of 0.6 percent. The euro area's economy is forecast to begin climbing up again by 1.5 percent in 2010.
The emerging countries in Asia, led by China and India, are expected to slow down from their fast expansion path of the last five years. Particularly, OECD predicts China's economy to expand by 8 percent in 2009 and 9.2 percent in 2010, compared with an average growth rate of 11.8 percent during 2006-07.
OECD predicts world trade to substantially weaken during 2009-10. Following an estimated growth rate of 4.8 percent in 2008, growth in the volume of world trade is forecast to further worsen to 1.9 percent in 2009 and recover to 5 percent in 2010. In comparison, world trade had advanced by 9.4 percent in 2006 and 7 percent in 2007.
Evangelos Simos, chief economist of the consulting and research firm Infometrica Inc., is international affairs editor for the Journal of Business Forecasting and professor at the Whittemore School of Business & Economics, University of New Hampshire. He may be reached at eosimos@infometrica.com.