N.H. exports fall from July to August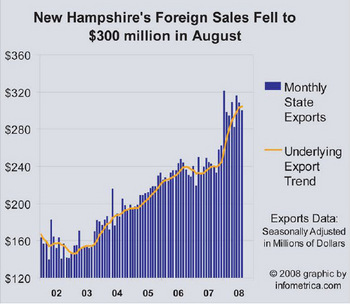 In the last three years, "Made in the USA" goods have gained popularity around the globe, helped by the low value of the dollar and fast-rising foreign incomes, especially in the emerging economies like China, India and Brazil. Month after month, exporting companies have seen their incoming international orders increase to historically high levels.
At the year's midpoint, the United States was ranked the third largest exporter in the world, with foreign sales hitting $661 billion — $101 billion, or 18 percent, more than during the first half of 2007.
Germany was the world's leading exporter, with $783 billion in exports in the first six months of this year, followed by China, with $666 billion in foreign sales. Japan was ranked the world's fourth exporter, shipping abroad $404 billion in merchandise.
According to the latest trade numbers, shipments abroad from New Hampshire exporters fell 2.7 percent in August from the previous month, following a decrease of 2.4 percent in July. As a result, $300 million in goods left New Hampshire going to international markets in August.
Still, in August of this year, exporters shipped overseas $57.6 million, or 23.8 percent more goods than in August of last year.
Manufactured goods accounted for 86 percent of all state exports in August. Exports from state manufacturers decreased in August by 1.1 percent from the previous month to $257.7 million, adjusted for seasonal variation.
How do New Hampshire manufacturers compare to their performance a year ago? August's foreign shipments from state factories were $51 million, or 24.7 percent, higher than in August of last year. Exports of non-manufactured goods fell 11.2 percent in August to $42.3 million.
For the country as a whole, America's exports of goods fell 2.6 percent in August to $117.6 billion from July.
All told, exports from New Hampshire companies increased by an annual rate of 26.8 percent. So far this year, U.S. exports have increased 19.8 percent.
What are the prospects for exports for the rest of the year and 2009?
In its new semiannual economic report the International Monetary Fund warned that "the world economy is experiencing a major downturn in the face of the most dangerous financial shock."
The IMF projects global growth to slow substantially in the rest of 2008, before beginning a modest recovery in the second half of 2009, at an annual growth rate of 3 percent, compared with an average annual rate of 5 percent during 2006-07.
In the key export markets of the advanced economies that include Europe, North America and Japan, economic growth is forecast to be close to zero until at least the middle of 2009. IMF forecasts growth in the fast-growing emerging economies to ease to 6.1 percent in 2009, from an average of 8 percent during 2006-07.
The IMF also predicts the volume of international trade will go through a period of extremely sluggish growth. The World Economic Outlook forecasts worldwide trade to slow to 4.9 percent in 2008 – from 7.2 percent in 2007 and 9.3 percent in 2006 – and ease further to 4.1 percent in 2009.
Evangelos Simos, chief economist of the consulting and research firm Infometrica Inc., is editor for international affairs of the Journal of Business Forecasting and professor of Economics at the Whittemore School of Business & Economics at the University of New Hampshire. He may be reached at eosimos@infometrica.com.