N.H. exports dip slightly but remain strong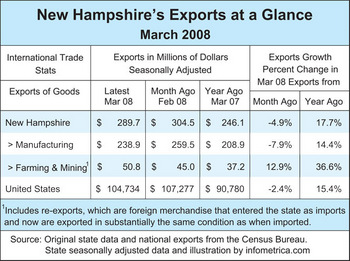 Foreign sales from New Hampshire companies edged down slightly in March, but remained close to their current brisk trend.
According to the latest snapshot of the state's trade activity, New Hampshire's exporting companies shipped abroad some $289.7 million in merchandise in March — $14.8 million, or 4.9 percent less than in February.
Nevertheless the total is the third-highest monthly mark on record. The new numbers also showed that New Hampshire's companies on an annual basis posted exceptional gains in comparison with last year. In March of this year, state exporters sold overseas $43.6 million, or 17.7 percent, more goods than in March 2007.
March's trade performance was driven by manufactured goods, which accounted for 83 percent of all state exports, totaling $238.9 million.
Exports of non-manufactured goods rose 12.9 percent in March to $50.8 million, adjusted for seasonal variation.
All told, U.S. exports fell by 2.4 percent in March to $104.7 billion from the previous month.
New Hampshire ranked 15th in export growth among the 50 states during the first quarter of this year, as foreign sales by New Hampshire's companies increased by an annual rate of 29.2 percent.
According to the latest business survey conducted by the Institute of Supply Management, the nation's supply executives continue to be optimistic about the prospects of growing export markets.
The research institute reported that its indicator of new export orders showed signs of growth in April for the 65th consecutive month. More important, the recent reading indicates that incoming export orders from foreign buyers grew in April at a faster pace than in March.
Evangelos Simos, chief economist of the consulting and research firm Infometrica Inc., is international affairs editor of the Journal of Business Forecasting and professor at the University of New Hampshire. Distributed by Infometrica Inc. Dr. Simos may be reached at eosimos@infometrica.com.